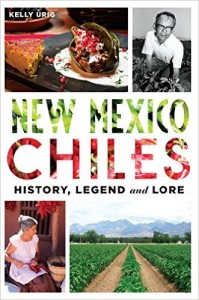 With most inside account books, someone dies or at the very least you get a graphic description of some horrible event, complete with gory photos. This is typically followed by a round of talk show appearances, and up until a few years ago, crying on TV in front of Oprah. You wont' find any of that crap in this upbeat chile love letter. Unlike many eyewitness-esque works, Kelly Urig's New Mexico Chiles: History, Legend, and Lore is a positive tribute to an icon from the writer's childhood. Here's what I mean…
Unlike the majority of dramatic firsthand account stories I've read, this book is a celebration. Namely, of New Mexican chile pepper history and culture from the POV of someone who grew up in a chile pepper family. Kelly Urig's clan raises, eats, and breathes the hot little peppers we all love so much. Kelly herself didn't fall in love with chiles at first sight but came to appreciate them later on. Film making is Kelly's creative background and this book reads like a literary documentary to me. It's a blend of history, culture, and industry insight blanketing most facets of the chile pepper experience, from farming and restaurants to the people who've made New Mexican chiles the culinary phenom that it is today. What the book isn't is your typical recipe book, although there's an appendix dedicated to recipes near the end.
The holiday season is fast approaching, bringing the dark clouds of holiday shopping with them like some apocalyptic horseman. If you have a neophyte chilehead on your shopping list, New Mexico Chiles is a great gift.
The following two tabs change content below.
Managing Editor | Mark is a freelance journalist based out of Los Angeles. He's our Do-It-Yourself specialist, and happily agrees to try pretty much every twisted project we come up with.
Latest posts by Mark Masker (see all)