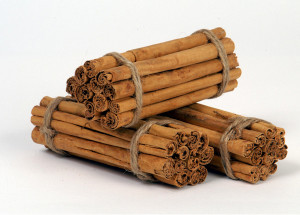 Lately, I've been posting a lot of recipes for spicy desserts. Not just because we writers are a lazy lot people who try to get the most out of a subject. Over the last few years we've seen more sweet offerings at the National Fiery Foods & Barbecue Show. Seeing a tendency like this at one show would be happenstance, twice coincidence, and three shows, well, that's an outright movement. The easy route to sweet heat is the strategic application of cayenne or chile pepper to chocolate. While I'm as easy as the next guy, there's no real art to just adding a chile to an existing dessert recipe and calling it a day. Here are some sources of heat to consider when you start your own adventures in spicy dessert.
Chiles: The peppers we all know and love are a surefire way to bring spicy heat to dessert. Most commonly, people add ground dried peppers to chocolate but you can also candy them or use them in fruit salsas.
Cayenne: I mostly use cayenne in powder form but you can also cook with fresh cayenne pepper. Lately, cayenne is finding its way into drinks, including Bonavitas energy drinks.
Paprika: Noted for its bright red color, paprika comes from air-dried fruits of the chile pepper family of the species capsicum annuum. Paprika ranges from sweet to hot, with flavor variations also by country. It's used in a variety of foods from sausages to stews. You can coax a good deal of flavor out of it by cooking with it in oil.
Cinnamon: Dessert-wise, cinnamon is used in the preparation of chocolate, especially in Mexico. Other dessert uses include apple pie, doughnuts, and cinnamon buns as well as spicy candies, coffee, tea, hot cocoa, and liqueurs. Here in the U.S., cinnamon and sugar are often used in cereals, bread-based dishes, and with fruits, especially apples. It is also used in Turkish cuisine for both sweet and savory dishes. Cinnamon can also be used in pickling. Cinnamon powder has long been an important spice in enhancing the flavor of Persian cuisine, used in a variety of thick soups, drinks, and sweets
Ginger: Ginger produces a hot, fragrant kitchen spice. It can be steeped in boiling water to make ginger tisane, to which honey is often added; sliced orange or lemon fruit may also be added. Ginger can be made into candy, or ginger wine, which has been made commercially since 1740. Fresh ginger can be substituted for ground ginger at a ratio of six to one, although the flavors of fresh and dried ginger are somewhat different. Powdered dry ginger root is typically used as a flavoring for recipes such as gingerbread, cookies, crackers and cakes, ginger ale, and ginger beer. Candied ginger, or crystallized ginger, is the root cooked in sugar until soft, and is a type of confectionery. Fresh ginger may be peeled before eating. For longer-term storage, the ginger can be placed in a plastic bag and refrigerated or frozen.
The following two tabs change content below.
Managing Editor | Mark is a freelance journalist based out of Los Angeles. He's our Do-It-Yourself specialist, and happily agrees to try pretty much every twisted project we come up with.
Latest posts by Mark Masker (see all)