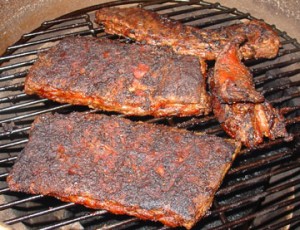 Barbecue and spicy food news hibernates in the winter. You can still find it, but there hasn't been enough weirdness occurring in either world recently to warrant a Hot News post from me. Until this week. Read on.
We'll Smoke 'im Out!
Someone absconded with the store sign for Miamisburg, Ohio's latest Oinkadoodlemoo barbecue restaurant. That's the bad news. The good news is (a) I finally got the excuse to use the word "absconded" in a sentence, and (b) the joint's owner is offering free barbecue for a year to anyone offering information leading directly to the culprit. Find out more here.
So Sous Me
Head to Brighton in the UK and you'll find the country's only sous-vide barbecue joint: Beach BBQ. I mention this because it begs the question: why aren't more barbecue restaurants here in the States going the sous-vide route with their 'que? Get the details here.
Tough Crowd
Crowdfunding isn't a spring chicken anymore. People turn to the Interwebs to fund everything from startup companies to paying the rent after acting stupid (cough, cough, Tila Tequila). A restauranteur in Philly has started a Gofundme campaign to get his latest barbecue joint up and running. If you're considering opening your own, you may want to follow his campaign and see how it turns out.
The following two tabs change content below.
Managing Editor | Mark is a freelance journalist based out of Los Angeles. He's our Do-It-Yourself specialist, and happily agrees to try pretty much every twisted project we come up with.
Latest posts by Mark Masker (see all)