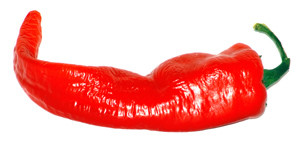 The word cayenne seems to come from kian, the name of the pepper among the Tupi Indians of northeastern South America. The pod type probably originated in what is now French Guiana and was named after either the Cayenne River or the capital of the country, Cayenne. It owes its spread around the world to Portugal, whose traders carried it to Europe, Africa, India, and Asia. Although it probably was introduced into Spain before 1500, its circuitous route caused it to be introduced into Britain from India in 1548. Grown commercially in New Mexico, Louisiana, Africa, India, Japan, and Mexico, the cayenne (C. annuum) has a growing period of about 90 days from transplanting.
The cayenne you buy for use in capsules and cooking may not be made from the cayenne pod type–in fact, it probably is not. Cayenne pod types are grown around the world, mostly in Africa, India, and the United States. But in the U.S., for example, the entire crop, most of which is grown in New Mexico and West Texas, is used in the manufacture of Louisiana-style hot sauces.
Recommended Varieties:
Charleston Hot – Very hot, large pods
Hot Portugal – Large, 8-inch, medium-hot pods
Large Red Thick – 6-inch, wrinkled, very hot pods
Long Red Slim – 6-inch, hot pods
Ring of Fire – 4-inch, hot pods
Super Cayenne – Hybrid, with 3 ½-inch hot pods
For even more information on cayenne (and other pepper varieties), click here.
The following two tabs change content below.
Publisher | Christened the "Pope of Peppers" by The New York Times, Dave DeWitt is a food historian and one of the foremost authorities in the world on chile peppers, spices, and spicy foods.
Latest posts by Dave DeWitt (see all)