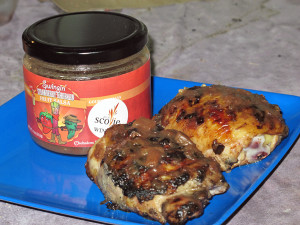 That went well. Any time I bust open a jar of fruit salsa, I'm a little skeptical. Mango and peach I understand. When you start throwing berries into the mix with onions and peppers, though, I'm still getting used to the idea. I like fruit salsa but I'm still trying to wrap my noggin around it. At last year's show Chehalem Ridge Brands gave me four of their fruit salsas to test out. I made some good Jamaican pork burgers with the pineapple. Last night a group of chicken thighs hit the grill slathered in the company's Swingin' Strawberry-Rhubarb Salsa. The results came out better than I hoped.
Swingin' Strawberry-Rhubarb smells like salsa. That's good because it, um, is a salsa. Between the jalapenos and onions it has the basis needed for a good salsa. When you bite into the stuff, that's when the surprise hits. Sweetness strikes first, followed by a bit of onion flavor, and finishing with a medium-sized chile sting to the piehole. I would have liked more tartness to it from the rhubarb, but overall I was pretty happy with the stuff.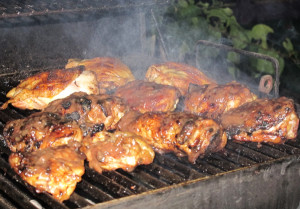 The only other issue came from cooking with it. Swingin' Strawberry-Rhubarb doesn't have much going on in the salty department. That's fine if you're dunking chips in it or using it in a dessert. For meat, though, you'll want to apply a rub before grilling or add a touch of salt to it if marinating first. Everyone who ate the chicken liked it and that's the best compliment anyone can give food fresh off the grill.
The following two tabs change content below.
Managing Editor | Mark is a freelance journalist based out of Los Angeles. He's our Do-It-Yourself specialist, and happily agrees to try pretty much every twisted project we come up with.
Latest posts by Mark Masker (see all)