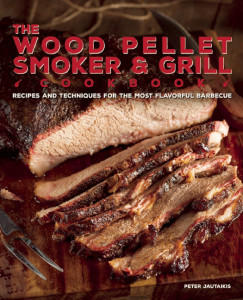 I recently received a copy of "The Wood Pellet Smoker and Grill Cookbook" from Ulysses Press. Written by California resident Peter Jautaikis, pitmaster of smokinpetebbq.com, the illustrated 180 page hard cover book has a bevy of recipes – appetizers, poultry, red meat, pork, seafood, "extras" and brines and rubs. A lot of the recipes are classic barbecue and grilling fare – ATBs, bacon-wrapped asparagus, spatchcocked chicken, brisket and ribs – but the book includes some non-traditional and interesting recipes as well.
Although the book is geared toward a MAK Grills 2-Star General, the recipes would work on any pellet cooker (such as the Yoder YS 640 that Dave Dewitt and I have) or they could be adapted to a gas or charcoal fired cooker by adjusting the cooking time.
The book begins with an overview of the pellet grill operation and its various components. Again, the book features the 2-Star General so the illustrations may not match other pellet cookers.
The following two tabs change content below.
Grilling & BBQ Editor | Mike holds a "Doctorate of Barbeque Philosophy" (Ph.B.) degree from the Kansas City Barbeque Society. His book Mastering Barbecue has been called the "go-to" book for BBQ knowledge.
Latest posts by Mike Stines (see all)