Pork is an inexpensive, flavorful and versatile meat that lends itself to a variety of preparations. This marinated and stuffed tenderloin is glazed with a spicy cranberry-habanero jelly and served with an apple compote, garlicky mashed potatoes and sugar snap peas. Tenderloins are packaged in pairs; this recipe uses both tenderloins and requires advance preparation.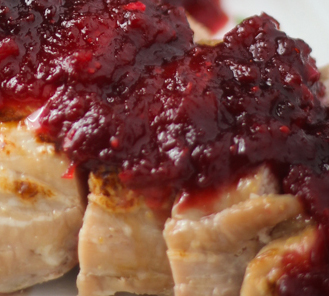 Remove any silverskin and extraneous fat from the tenderloins.

Prepare the marinade by combining all the ingredients in a medium mixing bowl. Place the tenderloins in a resealable food-grade bag, add the marinade and marinate the tenderloins, refrigerated, at least 4 hours or up to overnight.

Meanwhile, prepare the stuffing. In a large skillet, heat the olive oil. Saute the onion and celery until soft, about 5 to 8 minutes. Add apples and garlic and cook 2 to 3 minutes. Add the hard cider and bread cubes and cook until moisture evaporates. Stir in herbs, salt and pepper. Adjust seasoning to taste. Cool completely. (Stuffing may be prepared one day ahead and held, covered and refrigerated.)

Remove the tenderloins from the marinade; discard marinade. Using paper towels, pat the tenderloins dry.

Brush the inside surface of the tenderloins with the cranberry-habanero jelly. Put a layer of stuffing atop one of the tenderloins. Place the second tenderloin, jelly side down, on top of the stuffing and tie the tenderloins together with butcher's twine. Spoon any remaining stuffing in a buttered casserole dish and reserve. (If desired, the remaining stuffing could be cooked in a buttered casserole dish, covered, in a 350 degrees F. oven for 30 to 40 minutes.)

Preheat the oven to 425 degrees F.

Roast the stuffed tenderloins for 30 minutes. Brush melted jelly atop the stuffed tenderloins and continue cooking for another 20 to 25 minutes or to an internal temperature of 155 degrees F. Let the pork rest, tented with aluminum foil, for 5 to 10 minutes then bias-slice into 1/2-inch slices.
The following two tabs change content below.
Publisher | Christened the "Pope of Peppers" by The New York Times, Dave DeWitt is a food historian and one of the foremost authorities in the world on chile peppers, spices, and spicy foods.
Latest posts by Dave DeWitt (see all)