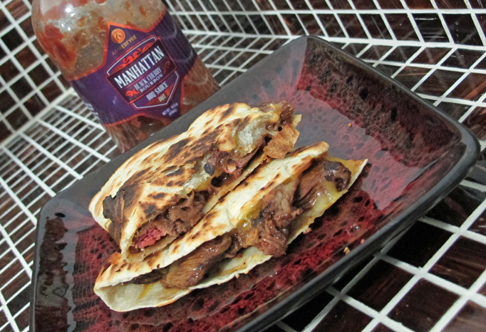 Amber Button and CaJohn Hard brainstormed this sauce during talk of the big city steakhouses popularized during the 1950s and `60s. It's a blend of Kentucky bourbon, marinated cherries, a touch of vanilla, chile peppers, and what you'd expect to find in many barbecue sauces. The stuff definitely goes great with barbecue beef and steak; if you like yours on the sweet heat side, it's mouth sex. I didn't want to try it out on anything nearly so normal as brisket, though. Instead, I went with a barbecue steak quesadilla. What surprised me was just how well the sauce tenderized the flap meat I used for the recipe. The stuff was almost fork tender before grilling!
If you really want to do something awesome with this sauce, track down some beef bacon, candy it in the sauce, and use it on a steak burger with sauteed mushrooms. I didn't get a chance to do that because the beef bacon heard I was coming and bailed from all of my local stores. Once the bacon lets its guard down, I'll post the recipe for that also.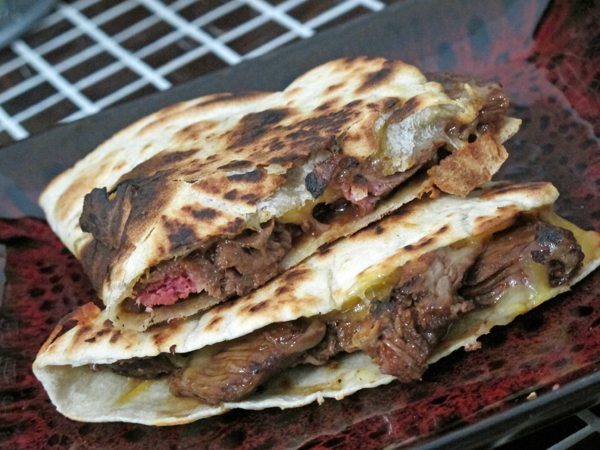 Barbecue Steak Quesadilla
2015-07-16 11:44:17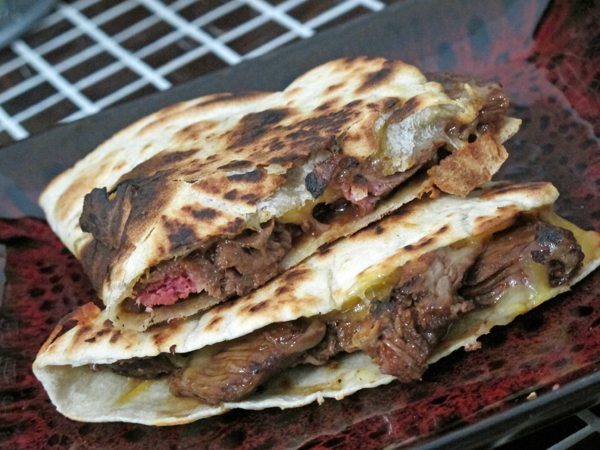 Heat Scale: Mild to medium
Ingredients
1/2 lb beef flap meat for carne asada
Amberfyre Manhattan Black Cherry Bourbon BBQ sauce
2 medium flour tortillas
1 cup shredded medium cheddar cheese or taco cheese blend
Instructions
Marinate the flap meat in the barbecue sauce overnight.
Heat your grill for direct cooking. Grill each side of the meat for 3-4 minutes, covered.
Chop the meat into half-inch cubes.
Place each tortilla on the grill. Divide the meat and cheese between the two.
Fold the tortillas in half on the grill.
Grill for 2-3 minutes, lid open.
Flip the quesadillas over and grill for another 2-3 minutes.
Pull from the grill, chop each into thirds, and serve.
Burn Blog http://www.burn-blog.com/
The following two tabs change content below.
Managing Editor | Mark is a freelance journalist based out of Los Angeles. He's our Do-It-Yourself specialist, and happily agrees to try pretty much every twisted project we come up with.
Latest posts by Mark Masker (see all)