Years ago, Jack-in-the-Box ran an ad with the lines, "But why a bun? A bun's neither meat nor cheese." They were joking. I wasn't when I stole the idea and used Yanni Jalapeno Grilling Cheese as the bread for this sandwich. The company makes two types of grilling cheese and my cheese-only grilled cheese sandwich idea seemed like a great test flight for their products.
Yanni Grilling Cheese is firm and when you grill or pan fry a slice, it softens but doesn't really melt. Its surface forms a flavorful golden brown crust after a minute or two so you really have to keep an eye on it. Flavor-wise, Yanni Grilling Cheese is mild and blends buttery with salty. The Jalapeno Grilling Cheese I used had a very mild but noticeable heat. It won't make your eyes water but if you're reading this post, I'm guessing you have plenty of tonsil-torching sauces in the pantry to remedy that if you like. An 8 ounce pack sells for around $6.99. It's worth it if you're the sort of person who likes to get really creative with something new.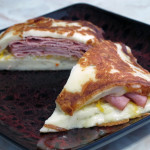 Yanni Jalapeno Grilled Cheese Sandwich Appetizer
2015-09-15 11:46:59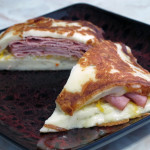 Serves 2
Heat Scale: Medium
Ingredients
4 slices Yanni Jalapeno (or Plain) Grilling Cheese, sliced 1/4-inch thick
5-8 thin slices of ham
4 thin slice mild cheddar cheese or 1 cup shredded taco cheese blend
Instructions
Heat your grill or stove top to medium-high.
Fry or grill the ham slices and Yanni cheese slices just long enough to brown them on each side (about 2 minutes per side).
Assemble the sandwiches. If need be, cook it indirectly for a couple of minutes more to make sure the cheddar/taco blend melts.
Cut the two sandwiches in halves or quarters as appetizers at kickoff.
Notes
I kept it simple because I had no idea if this experiment would work. You could go buck wild with this stuff and make some pretty cool sandwiches, though.
Burn Blog http://www.burn-blog.com/
The following two tabs change content below.
Managing Editor | Mark is a freelance journalist based out of Los Angeles. He's our Do-It-Yourself specialist, and happily agrees to try pretty much every twisted project we come up with.
Latest posts by Mark Masker (see all)