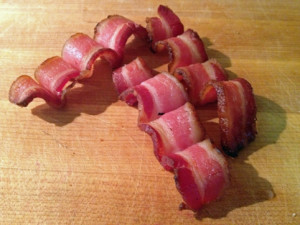 From Mike Stines: Over the years I've done a lot of barbecue… briskets, pork butts, poultry, corned beef, sausages and pastrami among others but I had never done bacon… that is until a short time ago. Making home-made bacon is not difficult but it does take some time to cure the pork before smoking. Once you've made your own bacon you'll never buy expensive store-bought bacon again! The full article with recipes is here.
The following two tabs change content below.
Publisher | Christened the "Pope of Peppers" by The New York Times, Dave DeWitt is a food historian and one of the foremost authorities in the world on chile peppers, spices, and spicy foods.
Latest posts by Dave DeWitt (see all)