Q: I heard about some guy who has developed a jalapeño pepper with no heat. Why would anybody do that?
A: Who knows what evil lurks in the hearts of men? Some manufacturers of hot products prefer to use heatless chile varieties and add heat later during processing through the addition of concentrated capsaicin oleoresin. This provides a measurable, more consistent heat level throughout the product run.
Jalapeños are pretty mild on the Scoville scale (4,000 to 6,000 units) so removing the heat wouldn't make too much of a difference in a recipe. In addition to heat, jalapeños add a flavor component, so if you like the taste but not the heat, this might be the chile for you. Cross Country Nurseries, which specializes in live chile plants, carries several no- or low-heat jalapeño varieties, including the "Fooled You Hybrid."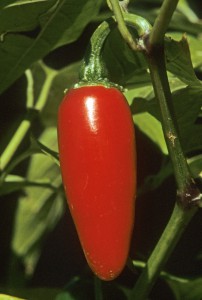 Jalapeños get hotter as they mature on the plant. They turn from green to red and develop lines along the length of the chile. The older the chile and the more striations make for a hotter chile.
If you want to remove most of the heat from a traditional jalapeño, use a grapefruit spoon to remove the seeds and veins from the chile.
If you have sensitive skin, it's a good idea to wear gloves when preparing chiles. If you don't wear gloves, be sure to wash your hands with warm water and soap after prepping the chiles. Avoid touching sensitive body parts.
ASK CHEF MIKE YOUR OWN QUESTION ABOUT GRILLING, CHILES, GADGETS, OR OTHER FOOD AND COOKING TOPICS. SEND HIM A MESSAGE HERE.

Mike Stines is a professional chef and the Grilling and Gadgets Editor for the Burn! Blog. Mike holds a "Doctorate of Barbeque Philosophy" (Ph.B) degree from the Kansas City Barbeque society. His book—Mastering Barbecue (Ten Speed Press, 2005)—has been called the "go-to" book for BBQ knowledge.
The following two tabs change content below.
Managing Editor | Mark is a freelance journalist based out of Los Angeles. He's our Do-It-Yourself specialist, and happily agrees to try pretty much every twisted project we come up with.
Latest posts by Mark Masker (see all)