After reading Bill Gillespie's The Secrets to Great Charcoal Grilling on the Weber, I wanted to go out and buy one. That alone should tell you something about this book.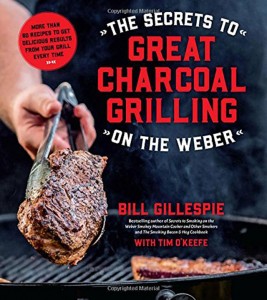 This is Bill's third book. I've read his second, which you can find out about in my review of it here. What I like about the Weber volume is it shows you just what's possible with a straightforward, inexpensive grilling setup (Weber grill, charcoal, chimney starter, and a few other items you should have anyway). Bill emphasizes techniques utilizing both indirect and direct heat, in language that anyone with a frontal lobe should be able to understand. If you don't have a frontal lobe, you probably have more pressing issues to deal with than how to grill great food anyway. You may not be aware of that, so you're welcome for the tip.
For the rest of us, you'll be pleased to know the book attacks a variety of grilling targets just as you'd expect in a good book on the subject of cooking with fire. Not only does Bill Gillespie cover appetizers to desserts and the entrees between them, he also shows how he creates competition barbecue on a Weber, with nice clear pictures to boot.
Obviously, all of this info transfers over to other charcoal grills too. At a cover price of $21.99, I don't think it's fairly priced. For as much as I love having my phone for researching just about everything, books don't run out of battery power and good food books like this one pay for themselves with the do's, don't's, and tips that keep grillers from making mistakes with pricy cuts of meat.
The following two tabs change content below.
Managing Editor | Mark is a freelance journalist based out of Los Angeles. He's our Do-It-Yourself specialist, and happily agrees to try pretty much every twisted project we come up with.
Latest posts by Mark Masker (see all)