Like hot rod builders in the 20th century, there's a race to make the hottest, most powerful superhot pepper in the world. This is not news; pissing contests like this have been around ever since the first caveman bladders got full. See, kids, this was well before black and white TV, let alone that hand-held phone you're probably using to read this story.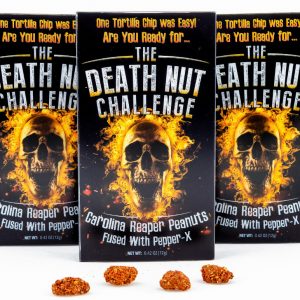 Inspired by the One Chip Challenge and quite possibly every idiot with a YouTube account who thought vaping a Carolina Reaper was a good plan, the Death Nut Challenge is the latest test to see if your guts have the guts to handle enough capsaicin to knock out an army of angry honey badgers. Can you handle five of the hottest peanuts on Earth? Here's your chance to find out.
Check out the Death Nut Challenge's starting lineup waiting to assault your mouth, as ranked by the makers (score of 1-10)
#1 Getting Started: Ghost Peppers & Carolina Reaper Powder (Heat Level 6)
#2 Warming You Up: Scorpion Butch T Peppers & Carolina Reaper Powder (Heat Level 8)
#3 Heat & Flavor: Carolina Reaper Peppers, Smokin Ed's Crying Bhutla & Carolina Reaper Powder (Heat Level 9)
#4 Pain Sets In: Carolina Reaper Peppers, 7 Pot Douglah, 7 Pot Brain Strain & Carolina Reaper Powder (Heat Level 10)
#5 The Death Nut: so you've made it this far congratulations! Get ready for some real pain Smokin Ed's Pepper-X (google it), Carolina Reaper Peppers, Moruga Scorpion Peppers & Carolina Reaper Powder (Heat Level 10+++; not quite sure how bad it is but my dog broke a sweat watching me read it)
These insane scorchers are made with the largest XL Virginia Peanuts and Stupid Hot Peppers from Smokin Ed Currie of the Puckerbutt Pepper Company. Ed currently holds the Guinness Book of World Records "World's Hottest Chile" title. You can order 'em here.
The following two tabs change content below.
Managing Editor | Mark is a freelance journalist based out of Los Angeles. He's our Do-It-Yourself specialist, and happily agrees to try pretty much every twisted project we come up with.
Latest posts by Mark Masker (see all)