X vs Y in anything is usually smoke and mirrors, preferably with little people being eaten while a city gets destroyed to a cool soundtrack. It makes for great monster movies. Sadly, you won't find any of that in the Hatch vs Pueblo chile rivalry that growers and politicians are peddling to the public right now.
In this recent story from The Albuquerque Journal, governors of both New Mexico and Colorado exchanged fire over the chile peppers native to their respective states, in a conflict that boils down to, "Um, NUH UH, YOURS sucks!"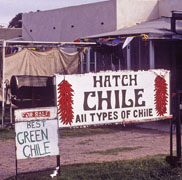 Sigh. Kids, kids, kids. Mommy and daddy love you both.
We just won't fall into your little game and play favorites (for the most part). Both sides claim that their chile pepper is "superior," whatever the hell that means. Are the two peppers different? Sure. Is one better than the other? I guess that really gets down to what your criteria is for that, isn't it? If one is "better" than the other, why is it so? "Um, cuz I say so. Shut up!" may be the new gold standard in political punditry but let's not export and expand that sort of thinking.
Show me the data, proving one's "better," then. Not opinion. Not rhetoric on Twitter. Not the android from Star Trek. Day-TAH. As in, cold, hard evidence.
The following two tabs change content below.
Managing Editor | Mark is a freelance journalist based out of Los Angeles. He's our Do-It-Yourself specialist, and happily agrees to try pretty much every twisted project we come up with.
Latest posts by Mark Masker (see all)