The traditional French Christmas dinner isn't exactly a small intimate affair. It's more like The Terminator of holiday eating.

Culinary moderation ain't how the French get down, yo. Therefore, it's not shocking that the time-honored French tradition of Christmas Eve dinner is, to understate it, extravagant. The name alone should clue you in: reveillon, as it's called, comes from the French word for "waking." There are only two real routes you can go with a meal name like that; all caffeine or staying up really late eating. Spoiler alert: it's not the first option.
Traditional Reveillon goes through midnight or later, with courses of things like lobster, oysters, fois gras, and turkey with chestnuts all being brought to bear on your palate. Dessert is just as relentless; not only is there
bûche de Noël
(Yule log), in some places there's one dessert for Jesus and each apostle. For you kids following along at home, that's thirteen total. It almost goes without saying that fine wines and cordials come with the territory but I'm going to anyway. I wouldn't want you throwing a reveillon with boxed wine and grape Kool-Aid. The party doesn't really stop after Christmas Eve, however; it just takes a break. New Year's Eve gets its own reveillon as well.
With its strong roots in French culture, New Orleans continued the tradition in the United States up until roughly 1940 when the more modern Christmas traditions we know now eclipsed the reveillon. Who can afford all of that food when you have trees and presents to buy for everyone? In time, the reveillon faded into the background in New Orleans. That is, until the 1990s when it started to make a comeback.
The revival was driven by another age-old tradition that drives most things: money. For as cynical as that sounds, it's the truth. An organization named French Quarter Festivals Inc wanted to pull tourists to New Orleans during the holiday season lull. When you have your own famous regional cuisine, one way to draw people in is to promote it. The group hit local restaurants with the brilliant notion of offering special holiday menus. Restaurants loved the idea almost as much as the local regulars and out-of-towners who came to embrace it.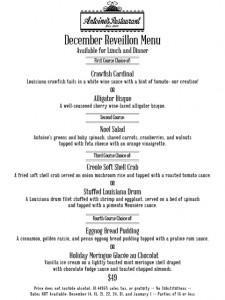 And who embrace it still. It would seem that lots of restaurants in the Big Easy have a strong reveillon game for the holidays. If you want to get a feel for just how powerful that game is,
this site has lots of information and inspiration on the subject
.
The following two tabs change content below.
Managing Editor | Mark is a freelance journalist based out of Los Angeles. He's our Do-It-Yourself specialist, and happily agrees to try pretty much every twisted project we come up with.
Latest posts by Mark Masker (see all)