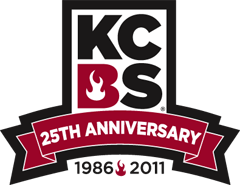 "What about becoming a bbq judge? I want that job!" My best friend said that while we were watching the first season of Barbecue Pit Masters. To the uninitiated, judging a barbecue competition seems like a simple matter of sampling all the food at an event, deciding which tasted the best, and succumbing to a food coma.
Not really. The Kansas City Barbeque Society has a whole set of guidelines for its certified judges. In fact, you have to take an actual class in order to become one. The classes cost about fifty bucks and take a few hours…and yes, you get to taste some BBQ as part of the training. Believe it or not, you'll even learn a thing or two about lettuce. I know it's late in the season, but if you're looking to get into the eating end of competitive barbecue, here's a list of KCBS classes offered for the remaining months of 2011:
September 2
Mesquite, NV
Instructor: Gene Goycochea
Website: http://www.arliequeevents.com
September 3
Bedford, TX
Instructor: Mark Simmons
Website: http://www.bedfordbluesfest.com
September 24
Livingston, AL
Instructor: Tony Stone
Contact: Stephen Liverman (205) 652-5405, sliverman@uwa.edu
September 29
Kansas City, MO
Instructor: Mike Lake
Contact: Kiley (816) 569-4036, kileys@americanroyal.com
October 1
Fairbanks, AK
Instructor: Jim Monihan
Contact: Norm Jones (907) 456-1959, akbbqa@yahoo.com
October 21
Lynchburg, TN
Instructor: Mike Lake
Contact: Marge Plummer (901) 398-0305, jdjudgingclass@hotmail.com
October 30
Overland Park, KS
Instructor: Mark Simmons
Contact: Rachel Ciordas, (913) 341-4455, rachel@kcculinary.com
November 5
Westmont, IL
Instructor: Mike Lake
Contact: Jim Addington (630) 215-9527, jaaddington@earthlink.net
The following two tabs change content below.
Managing Editor | Mark is a freelance journalist based out of Los Angeles. He's our Do-It-Yourself specialist, and happily agrees to try pretty much every twisted project we come up with.
Latest posts by Mark Masker (see all)