If you've been around the fiery foods & BBQ scene for any length of time, you've heard about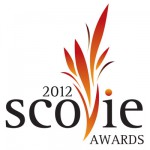 the Scovie Awards. If you're a chilehead and you've been to the National Fiery Foods & BBQ Show in Albuquerque, you've no doubt seen the Scovie Award Winner banners proudly displayed in various booths all around the show floor. Winners also include the Scovie logo in their advertising and labeling. Consumers and store buyers alike use the Scovie Awards as a guide to selecting the standout products each year, the ones that fall into the "must try" category. Simply put, if you want to know which product to buy, you can't go wrong with a Scovie Award winner.
The 2011 Scovie Awards was unique, because for the first time in the competition's 16-year history, two products tied for the Grand Prize in the Tasting Division. That meant the scoring on these two products was identical, down to three decimal places. That's pretty amazing, considering we're talking about 650 products entered, with a panel of more than 100 judges. Even more remarkable is how different the two winning products are: a spicy candy and a horseradish sauce!
Let's take a look at the two Grand Prize Scovie winners and see what makes them tick.
Saucy Mama Creamy Horseradish by Barhyte Specialty Foods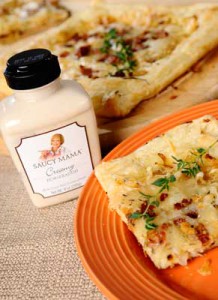 Hailing from Pendleton, Oregon, this small family company made its name in mustard, then expanded into other condiments. Suzie "Saucy Mama" Barhyte is a woman known for her love of all things spicy. When developing the Saucy Mama Creamy Horseradish, she says, "I was looking for a good, clean taste experience. The beauty of horseradish is that it makes you salivate; you feel the heat through your nose rather than on your tongue, and it just makes everything else taste better. Being a cream-based sauce means it doesn't lose that zesty punch when mixed in with sauces and dressings; it's a great addition for unexpected foods including marmalades and applesauce. And of course, you can't have a real Bloody Mary without the right horseradish!"
Obviously, Suzie found the magic she was looking for. This horseradish sauce has a creamy, sweet start, then the heat and flavor of the horseradish explodes in your mouth. I added some to this tart recipe and was wowed by the result:
Alsace Onion Tart
2-3 medium onions, any type
2 tablespoons olive oil
3 tablespoons butter
1/4 teaspoon salt
1/4 teaspoon pepper
4 pieces cooked bacon, chopped
1/2 teaspoon thyme
1 1/2 cups shredded swiss or gruyere cheese
2 sheets puff pastry, thawed
2 tablespoons Saucy Mama Creamy Horseradish (or more to taste)
Preheat oven to 425 degrees F. Slice onions thinly and saute in olive oil and butter for 15 minutes on medium high heat. Add the salt and pepper. Reduce heat to medium low and cook for an additional 15-30 minutes or until carmelized.
Cover two baking sheets in parchment paper and lay out the puff pastry. Fold each pastry sheet on each side to form a 1/2″ border. spread one tablespoon of the horseradish sauce over each pastry sheet.
Spread the carmelized onion over the pastry sheet, cover with cheese, and then sprinkle on the bacon and thyme. Bake for 15-25 minutes, or until the puff pastry is golden brown. Slice into squares and serve.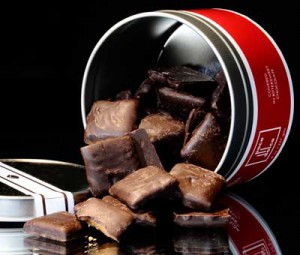 Super Chile Toffee by Poco Dolce Confections
Featuring the perfect blend of sweetness and heat, this product has it all going on. The geniuses at Poco Dolce Confections in San Francisco realized that their chile toffee—with its savory sweet start and chile-powered finish—would be just perfect if they wrapped it in a delectable layer of quality bittersweet chocolate. And like other great Italian creations, perfection was achieved. It's no surprise to me that this product ended up as a Grand Prize Winner.
True to the company's name, which translates from Italian to mean "not too sweet" or "just a little sweet," the products they have developed run the gamut from Aztec Chile Tiles, to Sesame Seed Toffee Tiles, to a Bittersweet Bar with Chinese Five Spice Powder blended in. Poco Dolce offers several sampler packs so you can try their unique combinations. And for those looking to limit dairy, their line of Bittersweet Chocolate Bars is 100% Dairy-Free.
Kathy Wiley and her company have received tons of great press in addition to many awards. This appeared in Wine Enthusiast Magazine (Dec. 2010): "Sweets packing Heat – These artisanal chocolates are carving out a niche as a sidekick to wine and spirits… Our favorites are varieties like Aztec Chile that add heat to the sweet."
These chocolates are so good, it would be a shame to bury them in a recipe—they should be worshipped on their own merit. However, Poco Dolce's Burnt Caramel Tiles and Toffee Squares do very well at events like the Whiskies of the World Expo because of their ability to pair with a number of different types of whisky.
The 2012 Scovie Awards competition is already ramping up, and the deadline for entering products is fast approaching: September 5. The new batch of Scovie Award winners will be announced in late October, and can be seen and tasted at the 2012 Fiery Foods & Barbecue Show March 2-4, 2012 at Sandia Resort and Casino in Albuquerque, New Mexico.
The following two tabs change content below.
Lois Manno
Lois is the Editorial Director of the Burn! Blog and the Fiery Foods & BBQ SuperSite.
Latest posts by Lois Manno (see all)