Seven thousand pounds of pork. A boast of the hottest burger in Texas. And a mainstream appliance company enters the pellet smoker market. Welcome to Hot News for January 16, 2020.
Cookies? We Don't Need No Stinking Cookies
The Girl Scouts have pwned the Boy Scouts for fundraising for decades. Those evil little slivers of delight they call cookies are just that damn tasty. Troop 355 in North Carolina has been giving them a run for the money for 24 years now, though. That's what happens when your fundraiser is a big barbecue sporting 7000 pounds of pork butt!
Texas Heat
The Little Bitty Burger Barn in Houston has a big challenge: Charlie's Five Alarm Burger Challenge. Claiming it's the hottest burger in the state, they've made a quarter pound burger topped with jalapenos, habaneros, a secret sauce, and a searing concoction of flaming death they call Nitro sauce. Anyone who finishes it in the five-minute time limit gets a T-shirt and their photo on the wall.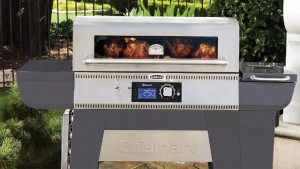 Cuisinart's New Pellet Grill
You know a food trend has gone mainstream when a company like Cuisinart gets involved. Now they've ventured into the magical wonderful world of pellet grilling with a model that cooks with wood or charcoal.
The following two tabs change content below.
Managing Editor | Mark is a freelance journalist based out of Los Angeles. He's our Do-It-Yourself specialist, and happily agrees to try pretty much every twisted project we come up with.
Latest posts by Mark Masker (see all)