A big Kosher barbecue event. The scientific name for sweating when you eat spicy. Chili cheese hot cross buns for Easter. It's time for Hot News.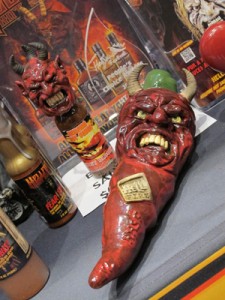 Name that Sweat
Hot Sauce Day was last week and in a nod to it (as well as providing new content for their site), the South Florida Reporter ran this listicle of factoids which included the o-fficial scientific moniker for sweating when you eat spicy food: Gustatory Perspiration. It also sounds like a spell from a Harry Potter book, but that's just me.
There's an App for That
If you're the kind of person who loves tech as much as you love barbecue, there are tons of WiFi and smart gadgets out there for you to rely on for making tasty barbecue. One of the latest is the Weber Connect Smart Grilling Hub. You put the probe in your meat and the hub's app tells you when it's time to flip it and other step-by-step instructions. Think of it as the nagging spouse of AI for backyard chefs. Hopefully Weber's engineers did a better job designing it than the marketing team did naming it. Although I suppose "Nagatha Christie 5000" isn't a great idea either.
Old Spicy
Old Bay seasoning brings a Chesapeake Bay vibe to seafood, poultry, soups, and salads. It's been doing that for over 75 years. McCormick elevated that idea into a limited run of Old Bay Hot Sauces yesterday and it sold out immediately. Why are we telling you this? Because a follow up run is in the works.
Tyson Eyes Championship
No, not the Tyson who bites ears, hits like a train, and sounds like a cartoon character. This Tyson is the one who dominates the frozen food section at your supermarket. Now the company wants to dominate the barbecue competition circuit with its own official team headed by Tuffy Stone.
No Pork on the Fork
I know full well those words are blasphemy at a traditional barbecue event but at the Atlanta Kosher Barbecue Festival, they're almost law. They're also the name of a documentary film covering said festival. What's cool to me is the intersection of Southern and Jewish traditions in cooking; you might find some good inspiration here.
Hot Buns for Jesus
Hot cross buns are an Easter tradition, which much like the little marshmallow chicks that are also traditional, pack a little too much sweet for some. Only a Hallmark Christmas flick packs more. For those who want a dessert more savory than sweet for Easter, Marks & Spencer now make Chilli & Cheese Hot Cross Buns.
If you've got something chile or barbecue-related you'd like featured in our weekly Hot News posts, message us directly.
The following two tabs change content below.
Managing Editor | Mark is a freelance journalist based out of Los Angeles. He's our Do-It-Yourself specialist, and happily agrees to try pretty much every twisted project we come up with.
Latest posts by Mark Masker (see all)