Traeger Grills, the innovators behind the original wood-pellet grill, launches their new mobile app, inviting people everywhere to come cook with their talented roster of award-winning chefs and pitmasters. From brushing up on the basics of onion chopping to mastering the tricks of brisket trimming, or even discovering a new favorite wood-fired recipe, the Traeger Grills App is now the ultimate go-to resource for home cooks and grill enthusiasts everywhere to get inspired and become more confident, knowledgeable chefs.
"Traeger Grills has long been powered by a pioneering spirit of innovation, we've always looked to redefine the outdoor cooking experience and take it to an entirely new level, and that's exactly what the evolution of our digital experience is all about," said Jeremy Andrus, CEO of Traeger Grills. "Not only are we giving everyone at home the opportunity to get inspired and cook alongside some of the best chefs and pitmasters in the world, we're giving them a multimedia-rich resource to help hone their skills, and a platform to share their experiences with the rest of Traeger Nation."
From prep to plate, Kansas City ribs to grilled lobster with garlic compound butter, Traeger's ever-growing video library of culinary prowess is an easy-to-use resource for cooks everywhere. Traeger tapped the likes of Matt Pittman, Danielle "Diva Q" Bennett, Amanda Haas, Dennis The Prescott, and more for an expansive series of in-depth videos to help discover recipes and the step-by-step guidance through any cook. The same pros offer their personal tips and tricks, from seven ways to chop an onion to advice on keeping cast iron cookware in tip-top shape, to help people everywhere become better chefs.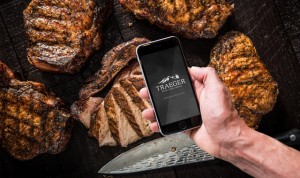 Trouble deciding what's for dinner? Traeger's new digital culinary experience starts with users creating a profile as unique as they are. By selecting things like palate and dietary preferences during setup, recipes are intelligently curated and suggested to take the guess work out of meal planning. The same personalization is available on the Traeger Grills App as well as TraegerGrills.com to create a truly unique and customized experience across all of Traeger's digital platforms.
Keeping up to date with the latest outdoor cooking technology is easy with Traeger's WiFIRE® grills. Aside from being able to control a grill from anywhere, at any time, the connected experience featured in the Pro, Ironwood, and Timberline grills is constantly evolving and improving through Traeger's firmware updates. An example of this benefit, starting today, all connected Traeger Pro 575 and 780 pellet grills now have the ability to hit 500°F providing even more versatility in cooking range. These seamless over-the-air updates give grill owners peace of mind that their grills are up-to-date and ready to roll when the dinner bell rings.
Wood-fired flavor is just a shout away thanks to Traeger's integrations with Amazon Alexa and Google Assistant. Smart home connectivity lets customers control their WiFIRE® enabled grills with just the sound of their voice, from adjusting grill temperatures to setting timers, and even checking food temperatures.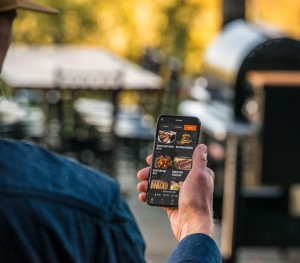 Being part of Traeger Nation now includes connecting with users across the world via the new Traeger App. In addition to creating a profile and setting palate preferences, app users can make and share notes on recipes, truly creating a personalized digital Traeger experience.
Available now on iOS, the all-new, robust digital footprint – including the app – serves as an extension of Traeger's overall brand experience. Learn more about the digital experience and shop Traeger Grills by visiting www.TraegerGrills.com and follow along on YouTube, Facebook, Twitter and Instagram.
The following two tabs change content below.
Managing Editor | Mark is a freelance journalist based out of Los Angeles. He's our Do-It-Yourself specialist, and happily agrees to try pretty much every twisted project we come up with.
Latest posts by Mark Masker (see all)