What grows well with chile peppers in a garden? Jose's stories of Milpas conjured forth that question into my mind last week. If you have limited space (or just want to be really efficient), growing a selection of vegetables and herbs that team well with your chiles is an excellent idea. Home pepper gardeners grow chiles for the sake of packing heat as needed. That said, we also pickle them with carrots and mix them into hot sauces, oils, salsas, and so on. We've compiled a handy list of some of the most commonly used herbs and vegetables used in conjunction with chile peppers to give you some inspiration.
Basil. This herb adds flavor to hot and spicy Italian sauces, and can be combined with fresh green chile peppers such as New Mexican, serranos, and jalapeños, to make powerful pestos. It also flavors stuffed Bell or Pimiento peppers.


Beans. The combination of beans and peppers is traditional. Green beans are often seasoned, but the most common blend is pinto beans and the red pods or powders of anchos, pasillas, chipotles, or New Mexican varieties.
Cilantro. Also called coriander leaf, this herb is the principal seasoning in fresh Mexican and Southwestern salsas. It combines well with serranos, jalapeños, habaneros, and piquins.
Corn. When processed into meal and then tortillas, corn with chile peppers is a traditional combination, appearing as tacos and enchiladas. However, fresh corn is often cooked with green New Mexican varieties and is also used in fresh salsas.
Cumin. The seeds of this herb are commonly used to spice Mexican and Southwestern cooked chile pepper sauces.
Eggplants. Fellow members of the Solanaceae family, eggplants and peppers are often combined in casseroles.
Garlic. The bulbs of this pungent herb are commonly combined with peppers in salsas, sauces, pickles, chutneys, salads, soups, and curries.
Onions. Onions are probably the vegetable most commonly combined with peppers. They are used in sauces, salsas, salads, pickles, and casseroles. Oregano.
Mexican oregano (Lippia graveolens and palmeri), is commonly combined with Mexican peppers in salsas, sauces, stews, soups, and combination dishes.
Potatoes. Another ancient combination, this time from South America, potatoes and peppers often appear together. Cooked potatoes are commonly topped with chile powders and sauces. Squash.
Varieties of squash, such as zucchini and crookneck, are often cooked with fresh hot peppers. Winter squash and pumpkins are baked with chile powders.
Spinach. As with lettuce, spinach combines with peppers in salads. However, it is also cooked with New Mexican varieties in dishes such as quelites.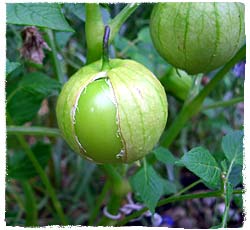 Tomatillos. These small husk tomatoes are popular in the Southwest and Mexico. They combine with fresh hot peppers such as Serranos and Jalapeños in salsas and sauces.
Tomatoes. Many different varieties of tomatoes blend with peppers in salads, salsas, sauces, casseroles, and numerous combination dishes.
You'll find the full story in Harald Zoschke's article on selecting peppers for your garden.
The following two tabs change content below.
Managing Editor | Mark is a freelance journalist based out of Los Angeles. He's our Do-It-Yourself specialist, and happily agrees to try pretty much every twisted project we come up with.
Latest posts by Mark Masker (see all)