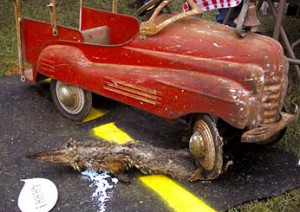 Scholars blame opposable thumbs, upright stance, and tool use for how we hairless apes conquered the Earth but there's another reason that trumps the others. Humans eat everything that doesn't eat them first. Beat it until it stops moving, throw some hot sauce on it, don't ask too many questions, and we're good to go. If you need evidence of this, look at two of America's weirder food festivals.
Texas Gatorfest: The tired old joke says, "Eat it. It tastes just like chicken." Gator actually does, provided you're used to frying up rubber chickens from the novelty store. This Anahuac, TX shindig encompasses two weekends; the kick-off takes place September 9th with a series of cooking competitions including bbq and, of course, gator. The next weekend, the fun continues with Cajun food, gator measuring/weigh-in, music, air boat rides, and more. You can get the full story here.
Recipe:
Spicy Fried Gator Tail
1 egg
Salt to taste
Garlic salt to taste
Vegetable oil, enough for frying
1/2 teaspoon Accent
1/2 to 3/4 cup milk
Pepper to taste
Flour
Gator tail
Sauce:
1 cup tomato-based hot pepper sauce
2 tablespoons vinegar-based hot pepper sauce
1 teaspoon garlic powder
1/4 cup grated Parmesan cheese
3 tablespoons butter, melted
For you would-be urban poachers out there, hitting the zoo or a handbag factory for alligator meat is probably a terrible idea. However, if you can get your hands on some tail legitimately, good for you. To make this, first skin the gator tail, then wash the meat, and cut it into pieces 3-4 inches in size. Beat the egg and milk together, then mix the salt, pepper, garlic salt, Accent, and flour together. Heat the oil for frying, and dip the meat pieces into the egg mixture, then into the flour mix. Carefully place the battered pieces into the hot oil. Cook them until they're golden brown. For the sauce, mix the pepper sauces, garlic powder, cheese, and butter together in a large bowl. When the tail is done frying, place the chunks in the hot sauce mixture and stir until they are coated.
Heat Scale: Mild to Hot based on what sauces you choose
The West Virginia Roadkill Cook-Off and Autumn Harvest Festival: This yearly smorgasgore celebrates what hillbillies have known since the first Model T trampled its first deer: cars are great for hunting. In years past, the Food Network, the Travel Channel and the Discovery Channel have all covered this wild and wacky festival. If you've ever wanted to taste exotic dishes like squirrel gravy over biscuits, teriyaki-marinated bear, or deer sausage, this is the place to be. The next event is scheduled for September 24 of this year. You can get more information here.
Recipe:
Emeril Lagasse's Deer and Andouille Sausage Gumbo
1 cup roux (recipe follows)
2 cups chopped onions
1 cup chopped celery
1 cup chopped bell peppers
1 tablespoon minced garlic
3 bay leaves
Pinch cayenne
Emeril's Essence to taste (see recipe)
1 pound andouille sausage, cut into 1-inch pieces
Salt and pepper
6 cups venison stock (see recipe)
1 1/2 pounds bottom round cut of venison (or any cut, except for the loin and rib area), cut into 1-inch pieces
1/4 cup finely chopped parsley
1/2 cup chopped green onions
3 cups cooked white rice
2 tablespoons chopped green onions
In a large stockpot, add the roux. Add the onions, celery, and bell peppers and stir constantly for 4 to 5 minutes, or until the vegetables are wilted. Add the garlic, bay leaves, cayenne, Essence, and sausage. Season with salt and pepper. Add the stock and mix until thoroughly incorporated. Bring the liquid up to a boil and reduce the heat to low. Cook for 2 hours, stirring occasionally.
Season the venison and add to the pot. Simmer for 1 hour. Skim off any fat that rises to the surface. Add the parsley and green onions. Season with salt and pepper, if needed. Ladle the gumbo into a bowl and top with rice. Garnish with green onions and Essence.
Emeril's Essence
This is an all-purpose seasoning blend that can be used in many dishes.
2 1/2 tablespoons paprika
2 tablespoons salt
2 tablespoons garlic powder
1 tablespoon black pepper
1 tablespoon onion powder
1 tablespoon cayenne pepper
1 tablespoon dried oregano
1 tablespoon dried thyme
Combine all ingredients thoroughly. Store it in a sealed container.
Roux:
1 cup vegetable oil
1 cup flour
2 teaspoons Emeril's Essence (see recipe)
In a large pot, heat the oil. When the oil is almost smoking, whisk in the flour. Cook the roux for 12 to 15 minutes, stirring constantly for a dark roux.
Yield: 1 cup
Venison stock:
7 pounds venison marrow bones, sawed into 2-inch pieces
1 (6-ounce) can tomato paste
2 cups chopped onions
1 cup chopped celery
1 cup chopped carrots
2 cups Claret wine
20 peppercorns
5 garlic cloves, peeled
5 bay leaves
1 teaspoon dried leaf thyme
1 1/2 gallons water
Preheat the oven to 400 degrees F. Place the bones on a roasting pan and roast for 1 hour. Remove from the oven and brush with the tomato paste. Lay the vegetables over the bones. Return to the oven and roast for 30 minutes. Place the pan on the stove and deglaze with the wine, scraping the bottom of the pan for browned particles. Put this mixture in a large stockpot. Add the peppercorns, garlic, and herbs. Season with salt. Bring the liquid up to a boil and reduce to a simmer. Cook for 4 hours. Remove from the heat and skim off any fat that has risen to the surface. Strain the liquid and discard the bones.
Serves: 8
Heat Scale: Mild
The following two tabs change content below.
Managing Editor | Mark is a freelance journalist based out of Los Angeles. He's our Do-It-Yourself specialist, and happily agrees to try pretty much every twisted project we come up with.
Latest posts by Mark Masker (see all)