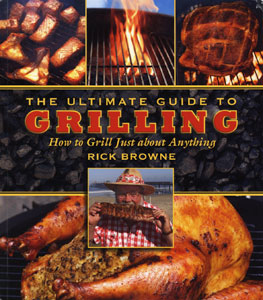 For many people, Labor Day is the death knell of summertime. Fortunately, grilling is forever. The proof of that can be found in the pages of grillmeister, world traveler, author, and TV personality Rick Browne's newest tome. Entitled The Ultimate Guide to Grilling: How to Grill Just About Anything, this book is both useful and entertaining, with snappy chapter titles like "What's That You're Smokin'?" and "Barbecue's Holy Grail."  Whether you're a vegetarian, a meat lover, crave fresh seafood, or are looking for a special way to grill up some wild game, the perfect recipe is waiting for you in The Ultimate Guide to Grilling.
Rick takes an international approach to grilling in this book, where a recipe for Korean Bulgogi Marinade shares space on the same page with South America-inspired Last Gaucho Beefsteak Sauce. Drizzled between fabulous recipes, the narrative is just twisted enough to make a great read. "Bubba's Got the Mop" is actually a poem based on comptetition BBQ, styled after the famous poem "Casey at the Bat."
But we all know that a cookbook is only as good as its recipes, and this is where Rick Browne's true genius shines. Rick has gathered award-winning recipes from famous grillers from across the country to supplement his own creations. When his decades of experimentation, travel, and down-home grilling know-how come together, the results are truly inspired. Try this amazing recipe for pork spareribs as a celebration of what summer's all about…then go buy the book!
Sherried Pork Spareribs
Denise M. Doyle, 1998-98 Cookshack Smoked Foods Recipe Sweepstakes First Place Winner
Marinade: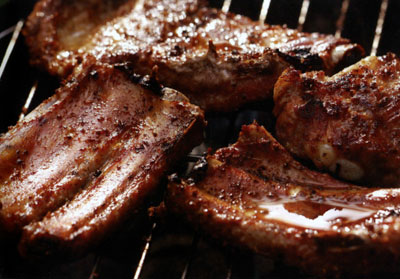 1 cup water
1 cup vegetable oil
1/2 cup soy sauce
1/4 cup apple cider vinegar
2 cloves garlic, crushed
Pepper Glaze:
1 cup apple jelly
1 teaspoon finely chopped, seeded jalapeño pepper
1/4 cup dry sherry
1 tablespoon of honey
4 pounds pork spare ribs
Mix all marinade ingredients in medium bowl and set aside.
Combine jelly and chopped pepper in a small sauce pan and cook over low heat until jelly is melted, about 3 minutes. Continue to cook for 1 minute. Remove from heat and stir in sherry and honey. Set aside.
Place ribs in a large baking pan and pour marinade over them. Cover and refrigerate for 2-4 hours, turning ribs once. Prepare grill to 300 to 400 degrees F. Remove ribs from marinade, drain and place on grill, cooking on indirect heat for approximately 4 hours. Try placing apple or other fruit wood chunks directly on the coals or briquettes.
Remove the ribs from the grill to a platter or cutting board. Brush all sides with Pepper Glaze and seal in foil, return to cool side of grill for 15 to 20 minutes. Remove from grill and serve.
Editor's Note: Many recipes in this book contain directions for charcoal grilling, but if you follow Rick's temperature and time directions, a gas grill will work as well.
The following two tabs change content below.
Lois Manno
Lois is the Editorial Director of the Burn! Blog and the Fiery Foods & BBQ SuperSite.
Latest posts by Lois Manno (see all)