I do believe the East Coast could use a stiff drink right about now. Just days ago, an earthquake rattled New York's cage, and now a hurricane is bearing down. What next??
Ever mindful of a clever marketing hook, the folks at Riazul Premium Tequila have redefined the classic Earthquake cocktail (or Tremblement de Terre) attributed to French painter Toulouse-Lautrec. The name is a reference to the fact that the potent mixture creates a tremor within the imbiber.
The Tremblement de Anejo will be on tap by this weekend and through Labor Day at Manhattan Meat Packing District's MPD Restaurant and Georgica Restaurant in Wainscott (the Hamptons).
Riazul tequila has furnished a three-part cocktail recipe for at-home mixology:
Tremblement de Anjeo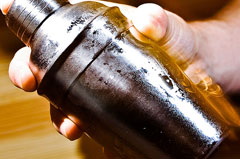 1 part Riazul Añejo
1 part Chartreuse Yellow
1 part Brooklyn Gin
Combine with ice, and don't stir— SHAKE IT!
If the imminent hurricane has you shaken and stirred up, calm your nerves with an East Coast Hurricane. This recipe is courtesy of SheKnows Food & Recipes (though exactly who she is remains a mystery).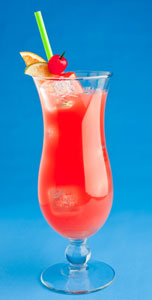 East Coast Hurricane Cocktail
1 ounce Myers's dark rum
1 ounce light rum
1/2 ounce lime juice
3 ounces orange juice
3 ounces pineapple juice
1/2 ounce grenadine
Splash Bacardi 151
Pour all ingredients but the 151 in a highball glass over ice and stir. Top with Bacardi 151. Add extra shots as needed to match the categorical intensity of your particular hurricane.
We're rooting for you, Eastern Seaboard. But whatever you're doing that's pissing off the Big Guy upstairs, you might want to lay off for a while.
The following two tabs change content below.
Lois Manno
Lois is the Editorial Director of the Burn! Blog and the Fiery Foods & BBQ SuperSite.
Latest posts by Lois Manno (see all)