High in the Andes, corn does not grow well because of the cold weather,so it was here that potatoes became the important staple food. The Andean area produces more than 200 varieties of potatoes, and some of these relatives can be found in North American markets; they range in color from bright yellow to red to purple, and some have odd shapes. Potatoes cannot be directly imported from Peru to the United States because of agricultural restrictions.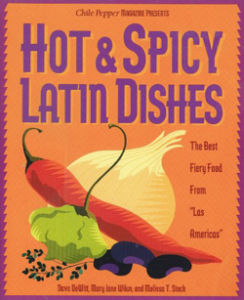 Potatoes sustained the Incas well, but the potato was shunned by the Europeans, who thought they were poisonous because they belong to the Nightshade family, as does belladonna. Nietzsche wrote: "A diet that consists predominately of potatoes leads to the use of liquor." Even though Thomas Jefferson planted potatoes on his land, most North Americans in the eighteenth and nineteenth centuries looked askance at them. "They should be grown near hog-pens as a convenience towards feeding the hogs," suggested the instructions in the Farmer's Manual.
Long before North Americans were feeding potatoes to their hogs, the Incas had created the first freeze-dried product: potatoes. These potatoes, called chuno, keep indefinitely and become hard and light when they are freeze-dried; they are frequently described as small, gray stones and can be found in Latin American markets. They are added to stews where they are rehydrated and add a nourishing touch, as well as a delicious taste.
You'll find a lot more history and recipes to match in Dave DeWitt's Hot & Spicy Latin Dishes. Click here to get yourself a copy.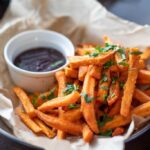 Heat the oil in a fryer or in a deep saucepan and when a drop of water bounces on the oil, add a few of the strips and fry them until they are lightly browned, about 2 to 3 minutes. Drain the strips on paper towels, salt lightly, and dust with the chile powder. Repeat this process with the remaining strips, adjusting the frying time if it's necessary. Keep the fries hot in the oven.

Variation: After draining the strips, refry them for extra crispness before spicing them.
The following two tabs change content below.
Managing Editor | Mark is a freelance journalist based out of Los Angeles. He's our Do-It-Yourself specialist, and happily agrees to try pretty much every twisted project we come up with.
Latest posts by Mark Masker (see all)