Pit Boss Grills proudly announced the release of an all-new, robust line of spices and sauces that are sure to enhance an already Bigger. Hotter. Heavier. grilling experience. In total, the 23 new spices and rubs and six sauces were born from years of experience cooking were chosen specifically to complement a variety of different foods and styles of cooking.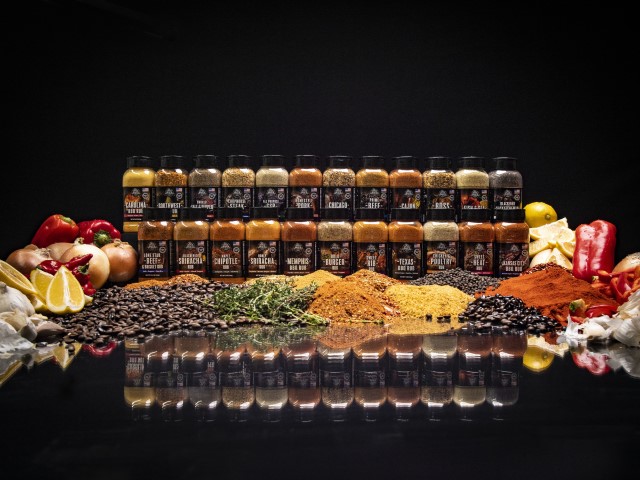 "We are very excited to bring our new assortment of spices and sauces to market," said Dansons President Jeff Thiessen. "Dansons is blessed with a highly-talented, in-house product team who have developed each of our new flavor offerings. This release is yet another example that we are more than just a grill manufacturer; we are a full-service barbecue provider. We can't wait for Pit Boss Nation to get their hands on our new spices and sauces and take their grill game to the next level."
The lineup includes: Boss Rub, Maple Chipotle Rub, Kansas City BBQ Rub, Bold Burger Rub, Chophouse Steak Rub, Memphis BBQ Rub, Texas BBQ Rub, Carolina BBQ Rub, Chicago BBQ Rub, Sweet Heat Rub, All Purpose GSP Rub, Blackened Sriracha Rub, Fish & Sea Rub, Smoked Salt & Pepper Rub, Honey Sriracha Rub, Chicken & Poultry Rub, Blackened Saskatchewan Rub, Prime Beef Rub, Southwest BBQ Rub, Lone Star Beef & Brisket Rub, Cajun BBQ Rub, Homestyle Pork Rub and Sweet Rib Rub.
For sauces, Pit Boss delivered gourmet barbecue sauces for delicious grilling. The new line features Kentucky Whiskey Barrel BBQ Sauce, Sweet Heat BBQ Sauce & Glaze, St. Louis Hickory & Brown Sugar BBQ Sauce, Texas Mesquite & Spice BBQ Sauce, Kansas City Maple & Molasses BBQ Sauce and Memphis Hickory & Vinegar BBQ Sauce.
The all-new line of spices and sauces are available for purchase now at PitBoss-Grills.com/Shop-Pit-Boss/Spices/.
Pit Boss takes pride in delivering the best possible products, at an affordable price, crafting grills that are Bigger. Hotter. Heavier. than the competition. For more information, please visit us online at PitBoss-Grills.com, on Facebook, Twitter, Instagram, Pinterest and YouTube.
The following two tabs change content below.
Managing Editor | Mark is a freelance journalist based out of Los Angeles. He's our Do-It-Yourself specialist, and happily agrees to try pretty much every twisted project we come up with.
Latest posts by Mark Masker (see all)