Before the generalized use of food additives in processed junk food, a good after school snack would come from the subsoil covered with dirt. Jícama was one of my favorite "all natural" snacks—along with cucumbers and coconut. Properly cleaned, peeled and cut in slices, sprinkled with lemon juice, salt, and chile piquín—real chile piquín—jícama was the perfect treat for a hot afternoon. Later in life, I would find it occasionally in France as an expensive exotic crudité or tropical raw vegetable, difficult to afford for a Mexican student living on a scholarship. It was one of those cultural shocks that make you want to take the first flight back home when you don't even have money for the plane ticket! This only exacerbated the situation, the type of event that makes you say, "It's better at home."
Frequently mistaken as a fruit, jícama is the root of a plant with the name of Pachyrhizus ssp. Belonging to the Legume family like all beans, it's a climbing plant, but differing from beans, in that it is cultivated to harvest its roots since the fruits are poisonous to humans and domestic animals. The tuberous roots of jícama can weigh between one half and five pounds. Aside from fresh human consumption, jícama can be used also to make flour used for bread and desserts.
There are three species of Pachyrhizus produced commercially, all are native to Latinamerica: P. erosus from Mexico; P. tuberosus and P. ahipa from the lower tropical lands of the Andes in South America. Xicama o xicamatl are the Náhuatl terms that mean "watery root" and that gave way to the word jícama. Its consumption by the natives of Nueva España was adopted by the Spaniards who exported it from Acapulco to the Philippines through the Pacific route they developed after the conquest. Once in Asia, the production and consumption of jícama was extended to other countries of that continent.
Sensitive to freezes, this perennial plant grows from the sea level tropical forests up to 3,000 ft in altitude with rainfall ranging from 10 to 60 inches where it is optimal. For those interested in healthy food and nutritional value we have good news: jícama is a low calorie, good hydratant and vitamin C rich food. For those interested in the agricultural role, it can be said that as a Legume, it fixes nitrogen in the soil. It can yield up to 34 tons per acre (half of that in semiarid climates) and can be used effectively in crop rotation or mixed with corn in a Milpa.
Boiled and pureed to substitute potatoes is an unimaginable way for me to consume jícama but for some people it's common practice. It can also be cut in strips, baked and be called "jícama french fries," another strange way for me to treat this noble root. Something that is not fried and it is definitely not French can be insulting to French people and some others including myself.
A few years ago, it occurred to me that I could use jícama in fish ceviche. I cut the jícama in bite sizes similar to those of white fish, mixing two parts of fish for one part of jícama. Letting it sit to marinate in lemon juice for 20 minutes in the fridge, jícama did not lose its texture and absorbed the flavor of the marinad (details in a recipe below). Some time later, I thought of preparing a cylinder shaped ceviche mixing fresh shrimp, avocado and jícama, as it worked fine with the fish, it worked wonders with shrimp! This idea is illustrated in the recipe below. My experiments' results make me think that the jícama option needs to be researched furthermore.
A long time has passed since I enjoyed jícama con limón y chile piquín after school, but the pleasure could be easily replicated today. Nowadays, however, I prefer the use of jícama with fish and shrimp. My next take will be a grilled chipotle marinated octopus with jícama in a tostada, if you happen to test it first, let me know how it went… Hasta la próxima!
Recipes for Jícama Jamboree
Ceviche de Pescado y Jícama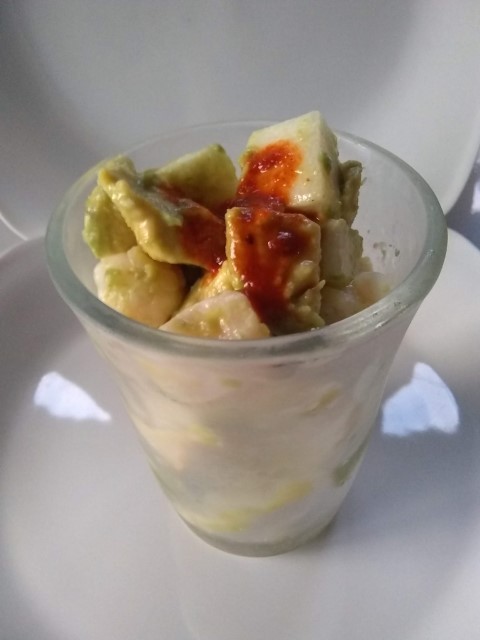 Ideal starter for a summer lunch. Fresh and healthy and will take only a few minutes to prepare.
Ingredients
1 lb. Fresh white fish cut in bite sizes
½ lb. Jícama cut in bite sizes
2 Avocados cut in bite size cubes
The juice of 6 to 8 lemons
Salt to taste
Crushed chile piquín or guajillo to taste
Instructions
In a glass bowl mix the fish with the jícama and cover with the lemon juice. Place the bowl in the refrigerator for 20 minutes.
Add the avocados and salt. Serve the dish in frozen glasses. Sprinkle the chile on top and enjoy!
Yield: 4 portions
Heat level: hot
Shrimp Cylinder Ceviche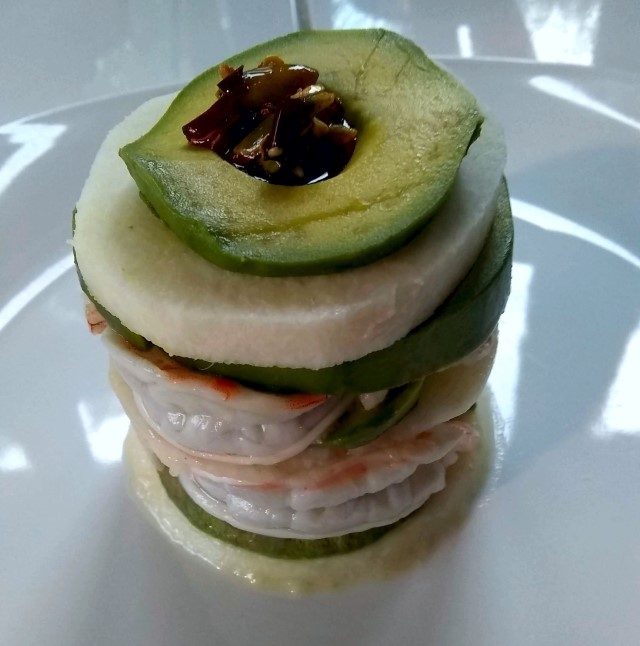 A fancy and nutritious way to impress your guests. This low calorie and hydrated dish is ideal for a hot afternoon and will make for a good piece of conversation. Note: to put together this dish you will need a 4 inch section of a 3 inch diameter PVC pipe, clean and lightly lubricated on the inside with olive oil.
Ingredients
2 Avocados cut in slices
24 Medium size shrimp shelled and deveined
½ lb jícama cut in 3 inch diameter circles. They should fit snug in the pipe section.
The juice of 6 to 8 lemons
Salt to taste
Your favorite fiery hot sauce to taste
Instructions
In a glass bowl mix the shrimp with the jícama and cover with the lemon juice. Place the bowl in the refrigerator for 20 minutes.
Oil the pipe section and let it rest vertically on a napkin to drain any excess. Place the pipe on the serving plate and begin to assemble the ceviche by inserting the jícama, a layer of avocado, and a layer of shrimp. Repeat three times while adding salt to each layer.
Once three layers are complete, press the contents of the cylinder a bit to tighten the contents. Begin to push the ceviche down while you carefully pull the pipe out. You will have your cylinder ceviche ready for the salsa on top and to be served. Be ready for a "wow" exclamation from your guests! Enjoy!
Yield: 4 portions
Heat level: hot
The following two tabs change content below.
Latest posts by José C. Marmolejo (see all)