Find a mega city and you will find a mega wholesale market. To feed a large population a large food distribution system needs to be in place, where wholesale markets are the neuralgic centers of those systems. El Mercado de la Viga is the largest seafood market in Mexico, responsible for supplying Mexico City metropolitan area—more than 22 million inhabitants—fruits de mer on a daily basis. The volume of seafood transactions any day of the week is bigger than that of any port in the country, that's why it's been called "El Puerto más grande de México."
Second in the world in sales volume only to the Tsukiji market in Tokyo (which serves a population of close to 40 million inhabitants), "La Viga" trades around five hundred tons of seafood daily comprising around one hundred different species. During lent, sales can reach five times the average daily volume. The action starts at 4 am when hundreds of trucks begin to arrive and unload fish, crustaceans and mollusks. Two hours later, around 25,000 customers begin to enter the market and the bargaining begins. In the middle of this are some 7,500 market workers who make sure the customers return to their stores, hotels and restaurants properly supplied with their seafood for the day. La Viga serves also as a domestic distribution center between cities that do not have coasts and some that do! Crabs from Tampico (in the Gulf of Mexico) pass through La Viga on its way to Acapulco (in the Pacific Coast)! This market is also a distribution center for seafood coming from abroad and Mexican seafood to be exported as well.
The history of this market includes the sad drying up of the lakes surrounding Tenochtitlan that started after the conquest by the Spaniards of the Aztec empire between 1519 and 1521. Trade between the Aztec capital and the neighboring towns was dynamic and occurred through lakes and waterways. The Spaniards preferred to build on land rather than on water so they began the drying up of the lakes. As water bodies began to shrink over time, water canals were created to transport merchandise and vendors—including fishmongers—began to appear on the canal banks. Originally named Canal de Santa Anita, El canal de la Viga connected Lake Chalco with Lake Texcoco. It was a maritime transportation corridor and recreation place up to the 1800´s. Locals and visitors then could ride a trajinera (small man powered boat), have lunch during the ride, listen to live music, buy plants and flowers, and drink pulque, just as it can be done today in Xochimilco. As modes of transportation evolved, El Canal de la Viga was dried and filled early in the 20th century. It was replaced by a cobblestone road, opened first to horse carriages and later to be inundated by gasoline powered vehicles. La Calzada de la Viga was born.
The first seafood market in Mexico City was established where the first fishmongers did business and took the name of the new avenue. El Mercado de la Viga was born. By the end of the 20th century, population growth forced the market to move to a bigger location where it stands today. The new location is not on Calzada de la Viga but the market is known as "La Nueva Viga".  This same evolution has been seen by the La Merced market, the Tsukiji market, and other markets around the world.
Known as a pescados y mariscos market, there are other products sold there too. If you want to equip your home or restaurant kitchen you can find all the pots, pans and utensils you need there. Do you need banking? Several bank branches can be found also within the market. Can you eat there? Of course! There is an area where fondas offer all kinds of freshly prepared seafood, prices ranging from $6 to $10 dollars for the best seller combo: a shrimp or oyster cocktail and a fried fish filet. The food service begins around 9 am and the dishes´ variety is determined by the vast daily seafood offer of the market. You may even find some of those crabs from Tampico en route to Acapulco that stayed for local fresh consumption. But if you are not in the mood for seafood, sidewalk vendors abound—like any other market in Mexico—supplying the ever present tamales, tacos and antojitos. Buen provecho!
Recipes for El Mercado de la Viga
Pescaditos
Literally "Little Fish", are the most inexpensive fish on the market any day filleted, battered and fried. And it's the most inexpensive cooked fish you can buy on the streets of Mexico City.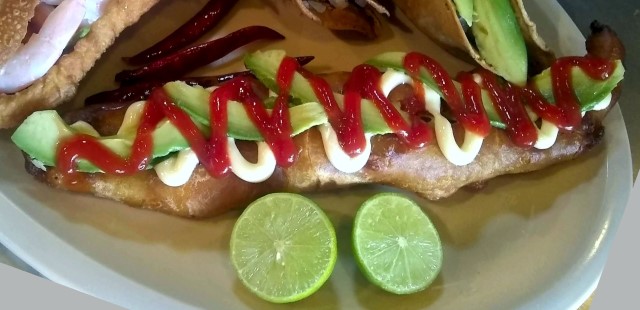 Ingredients
4 white fish filets
10 oz. all purpose flour
2 teaspoons baking powder
2 eggs
Splash of cerveza or soda
1 avocado sliced for garnish
Salt to taste
1 lemon in quarters to squirt
Ketchup, mayonnaise, and your favorite salsa picante for dressing
Instructions
Coat the fish in the flour and reserve.
Beat the eggs and begin to add the flour, the baking powder, and the beer or soda while mixing vigorously until a thick batter has been produced.
Dip the fish in the batter and fry it until brown.
Add the dressings and enjoy!
Yield: 6 servings
Heat level: medium
Empanadas de Camarón
Shrimp turnovers are what I call "practical food." Food that can be eaten while you walk or while riding a bus or subway. Inexpensive and delicious!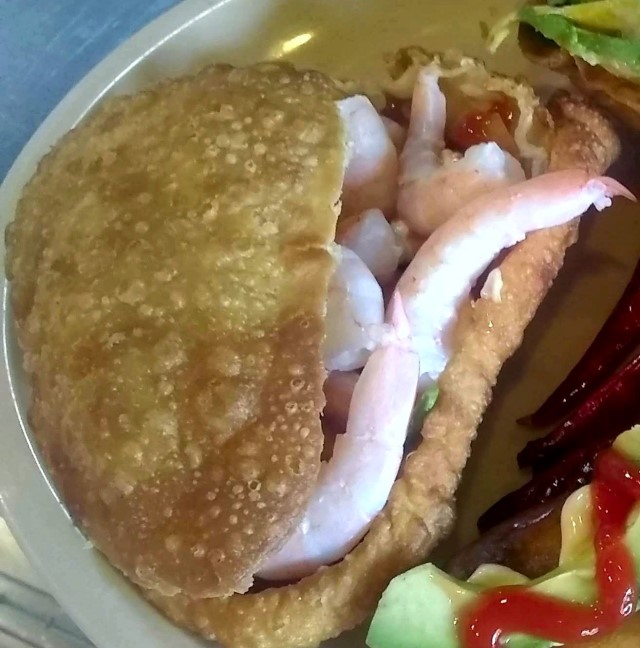 Ingredients
2 lb of salted turnover or mille feuille dough homemade or bought at the bakery. You may find them already made.
1 lb boiled shrimp
1/2 lb shredded cabbage
1/2 cup mayonnaise
1/2 cup sour cream
1 avocado, sliced for garnish
Salt to taste
Ketchup to taste for dressing
Instructions
Make the turnovers and bake them without the filling. Let them cool off.
Mix the shrimp with the cabbage, mayonaise and the sour cream. Cut an opening to fill the turnovers with the shrimp mix and add the ketchup.
Do not forget to spice it up with your favorite salsa. Enjoy!
Yield: 10 to 12 empanadas
Heat level: medium
Quesadillas de Pescado
Fish "quesadillas" are in fact crisp corn tacos filled with cooked fish.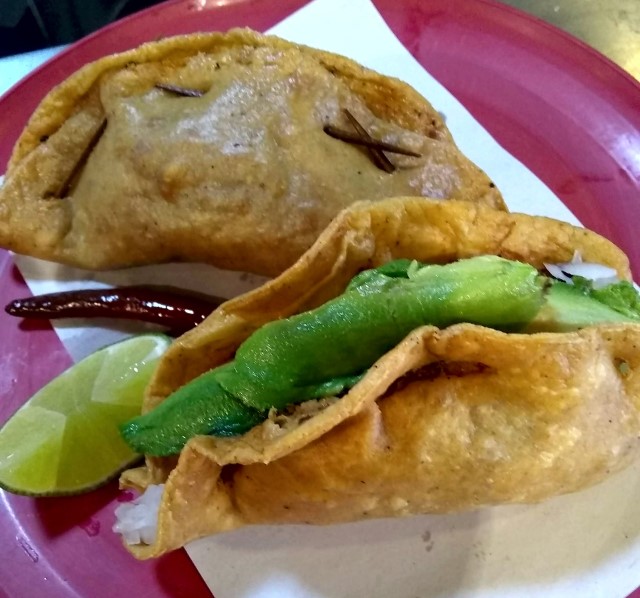 Ingredients
12 Corn tortillas
1 Lb. White fish cut in bite size pieces
2 tomatoes chopped
1/2 Onion chopped
2 Chiles serranos finely chopped
1 Clove garlic minced
1 Avocado sliced for garnish
Salt to taste
Toothpicks
1 Lemon to squirt
Vegetable oil
Instructions
Fry the fish with the tomatoes, onions, serranos and garlic adding salt. Reserve.
Fold the tortillas and stuff them with the fish mix and close using the toothpicks to hold them closed.
Fry the tacos until brown and crisp like a tostada. Using paper towels drain the excess oil and serve warm with the avocado on top, a squirt of lemon juice and your favorite salsa picante optional. Buen provecho!
Yield: Twelve quesadillas
Heat level: medium
The following two tabs change content below.
Latest posts by José C. Marmolejo (see all)