I grilled for lunch today and accidentally made the tastiest burgers ever. Here's how I did it with one caveat: No substitutions allowed.  I'm not giving amounts because they all should be to your taste.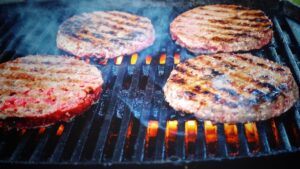 Ground Beef, 20% fat, from Whole Foods
Sara Lee Artesano Bakery Buns, toasted
Trader Joe's Pimento Cheese Dip
Trader Joe's Homestyle Salsa Especial, Medium or Hot, drained using a sieve
Minced red onion
Using a gas or charcoal grill, cook the burgers medium-rare.  Spread the buns with the Pimento Cheese Dip. Added the burgers and top with the salsa and minced onion.
Yield and heat level vary.
Photo by Jens Mahnke from Pexels
The following two tabs change content below.
Publisher | Christened the "Pope of Peppers" by The New York Times, Dave DeWitt is a food historian and one of the foremost authorities in the world on chile peppers, spices, and spicy foods.
Latest posts by Dave DeWitt (see all)