Okay, okay, we borrowed a Texas technique for beef brisket and changed the rub to reflect our chilehead tastes. For years we have been perfecting recipes using an Oklahoma Joe's smoker. Because smoking is so time consuming, it makes sense to smoke several things at once. In addition to brisket, we also smoke a turkey breast. Some cooks use the basting sauce as a mop during the smoking process and eliminate the long marinade at the end of smoking. Leftovers, if there are any, make the best barbecue sandwiches when served on a crusty hard roll.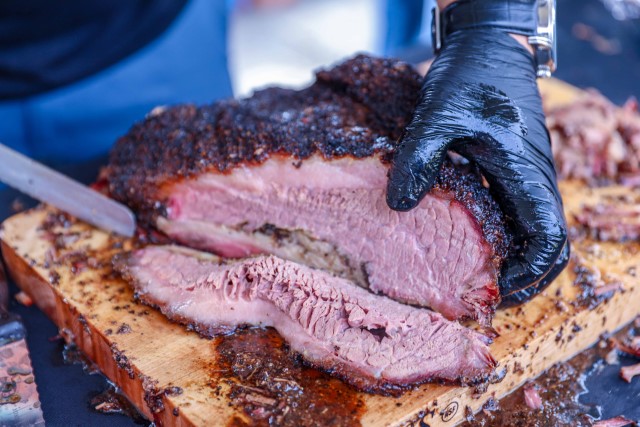 Beef Brisket Ingredients
1 9 to 10 pound brisket ("packer trimmed" preferred)
½ cup lemon juice
2 cups mild red New Mexican chile powder
1 tablespoon ground cayenne chile
2 tablespoons freshly ground black pepper
1/4 cup garlic powder
Brisket Basting Sauce
This recipe is from Red Caldwell, who revealed the secrets of Texas barbecue to us when we were editors of Chile Pepper magazine. After a beef brisket has been smoked, it is basted in this sauce for a couple of hours before it is sliced and served. Some cooks slather the sauce on during the smoking. It can also be used with smoked lamb or pork.
2 tablespoons commercial chili powder
½ teaspoon ground cayenne chile (or more to taste)
1 pound butter or margarine
2 onions, chopped fine
5 cloves garlic, minced
1 ½ cups beer, such as Shiner Bock
4 lemons, quartered
1 bunch parsley tops, minced
2 cups vegetable oil
1/4 cup Worcestershire sauce
2 bay leaves
Instructions
Thoroughly coat all surfaces of the brisket with lemon juice, and rub in well. Combine the chile powder, cayenne, black pepper, and garlic powder in a bowl, and sprinkle generously all over the brisket, rubbing it in well. Make sure that the brisket is entirely covered. Allow to marinate for at least an hour before smoking.
To smoke the brisket, build a hardwood fire in the fire box using pecan, oak, or any fruit wood. When the fire is smoking nicely, place the brisket on the rack fat side up, to let gravity and nature do the basting. Place the breast as far from the heat source as possible, and close the smoker. During the smoking, do nothing to the brisket. The smoking will take approximately 8 hours at 200 degrees smoke temperature. This means a lot of beer will be consumed while you wait and tend the fire.
After the brisket has finished smoking, remove it from the smoker, slather it generously with Brisket Basting Sauce, wrap it tightly in aluminum foil, and return it to the smoker. Close off all of the air supplies to the fire, and allow the meat to "set" in the pit for about 2 hours.
Mop Instructions
In a pot, melt the butter, add the onions and garlic, and saute for 4 to 5 minutes to soften.
Add the beer, squeeze in the lemon juice, and add the lemon rinds to the pot.
When the foam subsides, add all of the remaining ingredients and bring to a boil. Reduce the heat to a medium low and simmer for 20 minutes.
Heat Scale: Medium
You can thank Dave's book, Barbecue Inferno, for the above recipe. Or click here and pick up a digital copy for yourself.
The following two tabs change content below.
Managing Editor | Mark is a freelance journalist based out of Los Angeles. He's our Do-It-Yourself specialist, and happily agrees to try pretty much every twisted project we come up with.
Latest posts by Mark Masker (see all)