Our latest recipe from Byron Bay Chilli Co is all about tortilla pie. It's what lasagna would be like if it were invented in the American Southwest instead of Naples, Italy. This a meatless version but it would be very easy to carnivorize, too.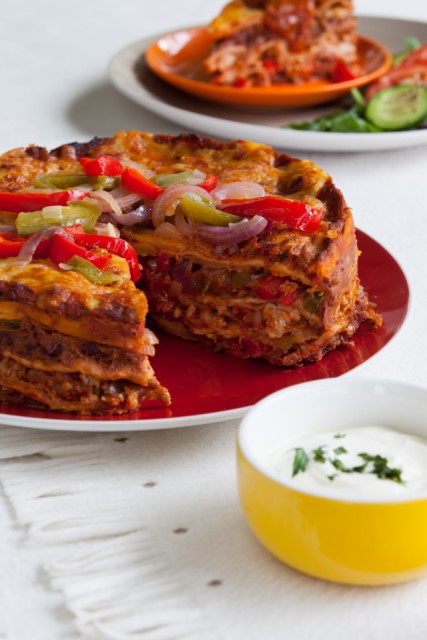 Ingredients
½ large onion, chopped
1 clove garlic, minced
1 tablespoon olive oil
250g chicken or beef mince
2/300g jars Byron Bay Chilli Co Salsa Picante Mild or Medium
425g cooked kidney beans
1/300g jar Byron Bay Chilli Co Smoky Red Bean Salsa
salt to taste
2 tablespoons olive oil
1 each red and green capsicum, thinly sliced
1 red onion, thinly sliced
1/2 cup sliced black olives
2-3 cups shredded tasty cheese
additional Salsa Picante (optional)
sour cream (optional)
Instructions
In a non-stick fry pan, sauté onion and garlic in 1 tablespoon olive oil over medium heat for 3 minutes or until beginning to soften. Add mince, gently stirring and breaking up large pieces until cooked.
Stir in ½ cup Salsa Picante, remove from pan and set aside. In a processor, blend kidney beans and Smoky Red Bean Salsa until smooth. Add salt to taste.
In a clean fry pan, heat remaining 2 tablespoons oil and sauté capsicum and onion over medium-low heat until softened. Stir in sliced black olives and set aside.
Lightly oil a 20 cm spring form pan. Place 1 tortilla on the bottom of the pan, pressing flat against the base. Spread with half the bean mixture, 1/3 of the vegetables, ½ cup salsa and ½ cup cheese.
Place the second tortilla on top, spread with all the mince and ½ cup cheese. Layer the third tortilla on top, spread with remaining bean mixture, 1/3 vegetables, ½ cup salsa and ½ cup cheese. Top with the fourth tortilla, spread with ½ cup salsa, remaining vegetables and ½ cup cheese.
Bake at 350°F for 45 minutes. Allow to sit for 5 minutes and cut into wedges. Serve with additional salsa and sour cream, if desired.
Photo by Nelly le Comte
The following two tabs change content below.
Managing Editor | Mark is a freelance journalist based out of Los Angeles. He's our Do-It-Yourself specialist, and happily agrees to try pretty much every twisted project we come up with.
Latest posts by Mark Masker (see all)