Created by Bruce Hiebert, owner of eastern Washington's Patit Creek Restaurant, this mild, celery-based sauce fits Alaska salmon perfectly. It is famous in Cordova, Alaska where it was used by the Copper River Fishermen's Co-op at its annual barbecue. A long simmer time gives the sauce its melting flavor and smooth consistency, so start it about two hours before you are ready to grill.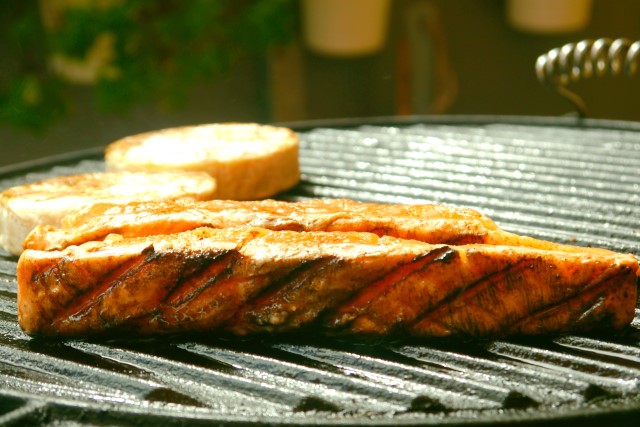 Copper River Salmon Ingredients
For the Sauce:
1 1/2 cups onion, finely chopped
1 3/4 cups celery, finely chopped
1/2 cup canola oil
3/4 cup brown sugar
2 1/2 cups ketchup
1/4 cup vinegar
2 1/2 tablespoons prepared yellow mustard
1 1/2 tablespoons Worcestershire sauce
2 teaspoons salt
Tabasco or other hot sauce to taste (optional)
For the Salmon:
4 pounds Alaska salmon (king, sockeye, or coho) fillets, butterflied 1-inch thick
Canola oil for grill
Instructions
In a medium (2- to 3-quart) skillet, sauté the onions and celery in the oil until they are translucent. Stir in the remaining ingredients and bring the sauce to a boil. Lower the heat and simmer gently, uncovered, for up to two hours.
Heat your grill to medium-low, leaving the lid open, and brush the butterflied salmon with canola oil. Place the salmon on the grill and close the lid. Grill the salmon for 5 minutes.
Gently flip the salmon with a spatula and baste it generously with the barbecue sauce before closing the grill's lid. Grill the salmon for 4 minutes, then check for doneness with a fork. If the fish is no longer translucent in the center, remove it from the heat and transfer the cuts to a serving platter. If the fish requires more grilling time, close the grill's lid and re-check the salmon every 2 minutes until it is done.
Serve the cuts with warm barbecue sauce on the side.
The following two tabs change content below.
Publisher | Christened the "Pope of Peppers" by The New York Times, Dave DeWitt is a food historian and one of the foremost authorities in the world on chile peppers, spices, and spicy foods.
Latest posts by Dave DeWitt (see all)