Paella, like this Andalusian mixed paella, is perhaps one of Spain's best-known dishes, originating in the Valencia region, and is one of the national dishes of Spain.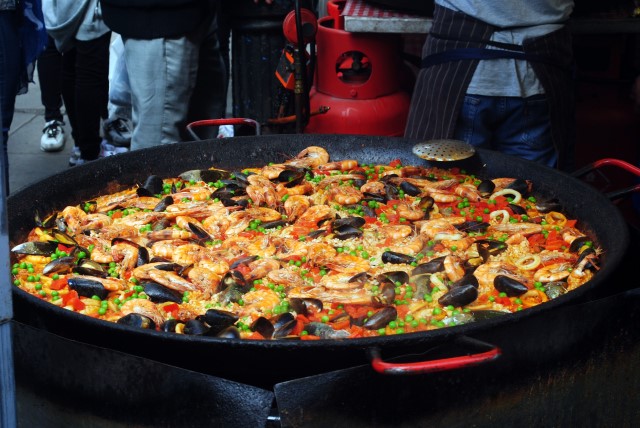 In its most traditional form—called paella Valenciana, it is made up of rice, green vegetables, some kind of meat, snails, beans, and spices—including saffron and garlic. Other varieties include seafood paella, in which seafood is substituted for the meat and snails of the Valencia recipe, or mixed paella, which contains both meat and seafood.
Andalusian Mixed Paella Ingredients
1 ripe tomato
1/2 cup white wine
1 red onion, chopped
12 black mussels, beards removed & scrubbed
1/2 cup extra virgin olive oil
1/2 red onion, extra, finely chopped
2 pieces Italian sausage, cook ahead & sliced
2 wood roasted paquillo peppers, chopped
1 teaspoon cayenne pepper
1 cup sivaris bomba paella rice
1/2 teaspoon Spansih saffron threads
2 cups organic chicken stock, heated
1/2 cup frozen peas
12 extra large shrimp, unpeeled
12 little neck clams
1 handful parsley, chopped
1/4 cup fresh lemon juice
1/2 teaspoon sea salt
1/4 teaspoon black pepper, freshly ground
1/2 teaspoon Spanish pimenton smoked paprika
Instructions
Heat the wine and onions in a saucepan over high heat. Add the mussels, cover for five minutes. Remove from the heat, discard any unopened mussels, and drain, reserving the liquid to use later in the recipe.
Heat the oil in a large, heavy bottomed paella pan, add the extra onion, Italian sausage (sliced) cook for five minutes, or until softened. Add the chopped tomatoes, paquillo peppers, pimenton smoky paprika, and cayenne pepper. Season with sea salt and freshly ground black pepper.
Stir in the reserved (wine/mussels) liquid, then add the rice and stir again. Blend the saffron with the stock and stir into the rice mixture. Bring to a boil, then reduce the heat to low and simmer, uncovered, for 15 minutes without stirring.
Put the peas, shrimp, and clams on top of the rice. Push them into the rice, cover and cook over low heat for 10 minutes, turning over halfway through, until the rice is cooked.
Add the mussels & lemon juice for the last 5 minutes to heat through. If the rice is not cooked, add extra stock and cook for a few more minutes. Leave to rest for 5 minutes, then add the parsley.
The following two tabs change content below.
Publisher | Christened the "Pope of Peppers" by The New York Times, Dave DeWitt is a food historian and one of the foremost authorities in the world on chile peppers, spices, and spicy foods.
Latest posts by Dave DeWitt (see all)