Bubble and squeak, bangers and mash, toad in the hole; many dishes in the United Kingdom are more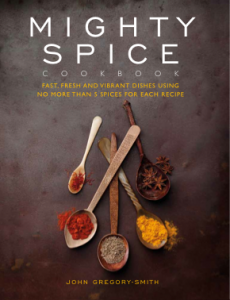 typically associated with prosaic names than with powerful spice. All that blandness is somewhat relieved by the influence of Indian cuisine, which crept in as a result of British trading (and eventual establishment of complete rule by the crown) over 200-odd years. But generally, bland is the word.
Enter John Gregory-Smith, master spice expert, who has traveled all over the world exploring the many facets of cooking with spices. In apparent defiance of his country's boring culinary legacy, he launched a line of spice pastes in 2006 called "Mighty Spice." He followed it up with this book by the same name. "Put simply, spices rock," says John. "They taste amazing, are easily available to everyone, have a rich history and are a great alternative to fat and salt."
Now, none of this is news to our family of chileheads and barbecue fiends. But this cookbook is beautiful, well-organized, and the recipes strike a good balance between complexity and simplicity. The recipes show the influence of the regions Gregory-Smith visited during his research for the book: Southeast Asia, India, Mexico, and the Middle East.
He doesn't push the overuse of hot and spicy, but instead marries flavors of spices that can be purchased right off the supermarket shelf. In the one hundred eclectic recipes found throughout Mighty Spice Cookbook, twenty-five key spices are covered and recipes use no more than five at a time. He does cheat a little bit by counting garam masala—which is a blend of up to 10 different spices—as one spice, but hey, who's counting?
Go to johngregorysmith.com for more information about the author, and to learn about his spice blends and other projects. Order the book here.
Here's a recipe from the book for Kadahi Chicken, a nice curry that could feature pretty much any protein. I watched the cooking demo and wanted to make it…hopefully so will you!
Kadahi Chicken
2 tbsp. vegetable oil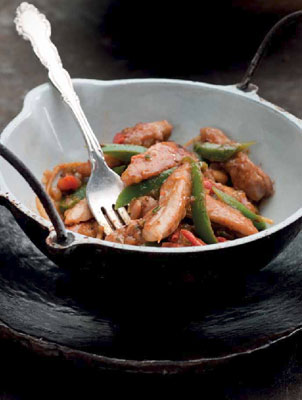 2 tsp. cumin seeds
1 large onion, finely chopped
1 green chilli, deseeded and finely chopped
2.5 cm/ 1-inch piece root ginger, peeled and finely chopped
4 tomatoes, roughly chopped
1 tsp. garam masala
1/2 tsp. turmeric
1 1/2 tsp. salt
500 g/1 lb. 2 oz. boneless, skinless chicken thighs, cut into thin strips
1 green pepper, deseeded and cut into thin strips
juice of 1/2 lemon
rice, to serve (optional)
1. Heat a wok over a medium heat and add the oil. Chuck in the cumin seeds, allow them to crackle for 10 seconds, then add the onion. Stir-fry for 3-4 minutes, or until the onion starts turning golden, then add the green chilli, ginger, tomatoes, garam masala, turmeric and salt. Mix well and stir-fry for 5-6 minutes, or until the tomatoes have started to break down and form a sauce.
2. Add the chicken and green pepper, reduce the heat to low and simmer, stirring occasionally, for 12-15 minutes, or until the chicken is cooked through. Add the lemon juice and give it one last mix. Serve immediately with rice, if liked.
Serves 4
The following two tabs change content below.
Lois Manno
Lois is the Editorial Director of the Burn! Blog and the Fiery Foods & BBQ SuperSite.
Latest posts by Lois Manno (see all)