For the first time ever, I went hunting for wild mushrooms. Prompted by some friends who spoke of harvesting wild king boletus mushrooms from the mountains above Santa Fe—along a trail that I regularly hike—I decided to give it a try.
The boletes are considered fairly safe prey, because they have a very distinctive structure that helps one avoid mis-identification. Not only can you get into some bad-tasting fungi, the more toxic varieties can liquify your liver in short order. But the boletus has a distinct lack of the ridged gills that form the undersides of most mushrooms; instead, the cap has a solid, spongy underside that is unique.
Wandering down a hillside along a small stream, I walked carefully to avoid smashing the very thing I was hunting for. After about 15 minutes of delicately tickling the undersides of several brown-capped mushrooms that I thought might be boletus, I found one with the correct solid feel and broad, stubby stem I'd seen in photos. The cap was a good 4″ wide, an impressive fungus to be sure. Popping it gently out of the soil, I turned it over and sure enough, saw the pale golden, solid surface I was looking for.
I don't generally get into wild-harvested food, aside from plucking the occasional wild berry. But I felt like an angler landing my first rainbow. It was a thrill! Unfortunately, I ran out of daylight and had to cut my adventure short, but I trotted home happily with my catch. The next day I showed it to a botanist friend with mushroom books, who gave me the official thumbs-up that it was a king boletus, which is considered "choice" eating by the folks who make such judgements.
I had a delicious-sounding recipe from Dave DeWitt, which called for an assortment of wild mushrooms. Knowing one boletus would not a pot of soup make, I supplemented it with some fresh farm-raised oyster mushrooms from the farmer's market and some baby bellas from the grocery store. Not entirely "wild," but wild enough for me. Let me just say that this was one of the best soups I've ever made. It was rich, earthy, and complex. The tomato juice gave the soup a beautiful rosy tint, and the chicken made it robust enough to be a main dish all by itself. I expect that using more truly wild mushrooms would push the flavor factor even closer to heaven.
If you want to try harvesting your own wild 'shrooms, make sure you know what you're doing…or go with someone who does. To play it perfectly safe, order dried mushrooms online or grow your own with a cool mushroom kit.
Wild Mushroom Bisque with Grilled Chicken
Dried wild mushrooms are available online and can be rehydrated for this soup. A suggested mix is 1 ounce of boletes, 1 ounce of cepes, 1 ounce of morels, 1/2 ounce of golden trumpets, and 1/2 ounce of black trumpets. Serve this soup as a starter for a meal of roasted lamb or pork shoulder. Wild mushrooms are expensive but unfortunately, there are no substitutes for them. If you're lucky, you can use fresh mushrooms and skip the soaking step below.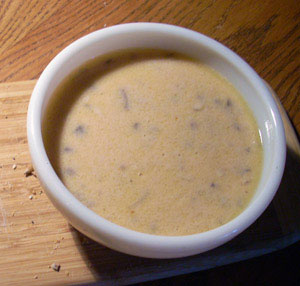 1/4 cup teriyaki sauce
1 tablespoon grated ginger
1 pounds chicken breasts
4 ounces mixed wild mushrooms (see headnote)
1 large shallot, minced
1/2 teaspoon minced garlic
1/2 teaspoon freshly ground black pepper
2 quarts chicken stock
1/2 medium onion, chopped fine
3/4 cup butter, divided in thirds
1/2 pound large button mushrooms, sliced
1 tablespoon minced garlic
1/3 cup all purpose flour
1 ounce Romano cheese, finely grated
1 cup cream or half-and-half
1/4 cup dry sherry
1 cup V-8 juice
Salt to taste
In a shallow bowl, combine the teriyaki sauce and the ginger and mix well. Add the chicken and marinate for 20 minutes, turning twice. Grill the chicken until done, finely chop it, and set aside.
If using dried mushrooms: soak the wild mushrooms in 2 cups warm water for 20 minutes. Rinse thoroughly and repeat in 1 cup of water. Reserve the water. Remove the mushrooms from the water and finely chop them. If using fresh mushrooms, clean them thoroughly and finely chop. Use plain water for the next step.
Place the mushrooms, reserved water, shallots, garlic, black pepper, and chicken stock in a stock pot and boil for 30 minutes, adding water as needed to keep to the original volume.
In a skillet, sauté the onion in the butter and transfer to a bowl. Reserve.
In the same skillet, sauté the button mushrooms in 1/4 cup butter with the garlic. Add the sauteed onions, mushrooms, and garlic to the stock pot.
Melt the remaining 1/4 cup butter in a pan, add the flour, and make a roux until lightly browned. Add the roux to the pot, stirring well. Add the chopped chicken breast and Romano cheese and stir well. Add the cream, sherry, V-8 juice, and salt and heat for 10 minutes.
Yield: 6 servings or more
The following two tabs change content below.
Lois Manno
Lois is the Editorial Director of the Burn! Blog and the Fiery Foods & BBQ SuperSite.
Latest posts by Lois Manno (see all)