This is almost as close as you can get to authentic Chinese food in North America! The stir-fried shrimp recipe combines marinated shrimp, ginger, garlic, hot chiles, asparagus and lemon grass for a somewhat spicy but extremely flavorful entrée. You could substitute sugar snap peas for the asparagus.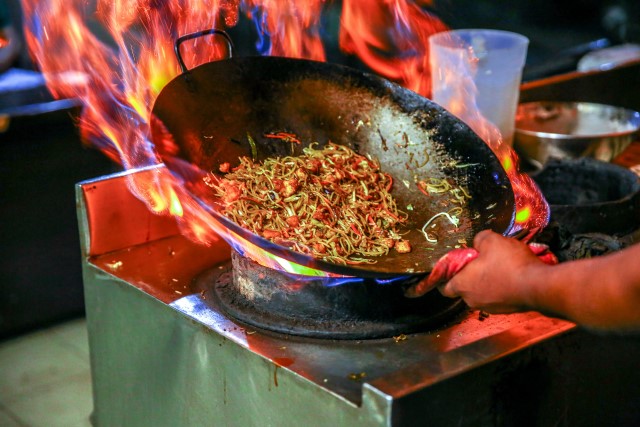 Stir-Fried Shrimp Ingredients
1 pound large (31 – 35 or 26 – 30) shrimp, peeled and deveined
3 tablespoons sake, divided
2 tablespoons cornstarch
3 tablespoons fish sauce, divided
Peanut or sesame oil
2 tablespoons minced fresh ginger (or two teaspoons dried)
2 teaspoons granulated sugar
2 dried Thai chiles
1 tablespoon minced garlic (about three cloves)
2 tablespoons minced lemongrass (about one large stalk)
1/4 cup minced scallions (about three medium scallions)
1/2 pound asparagus, trimmed and bias-sliced into two-inch pieces
Two to four fresh Thai chiles, thinly sliced
1 tablespoon Chili-Garlic Sauce
3 tablespoons Thai basil, sliced into chiffonade (regular basil, if necessary)
Instructions
Combine one tablespoon sake, one tablespoon fish sauce and the cornstarch in a small bowl. Mix this mixture until it's smooth. Place the shrimp in a bowl and add the cornstarch slurry. Stir it to coat. Let the shrimp marinate at room temperature for 30 minutes.
Heat a wok or large skillet over medium-high heat. Swirl some oil in the wok or skillet. Add the ginger, sugar, dried chiles, garlic, lemongrass, and chopped scallions. Stir-fry it all for one minute. Next, add the shrimp; cook, stirring, until the shrimp is slightly charred and barely opaque. It should take about four minutes.
Add the asparagus and the remaining fish sauce and sake, then stir-fry for three minutes.
Now add the sliced chiles and chow briefly.
Add the chili-garlic sauce and toss to combine. Add the basil and serve with steamed rice or noodles.
Yield: 4 servings
Heat Scale: Medium-Hot
The following two tabs change content below.
Grilling & BBQ Editor | Mike holds a "Doctorate of Barbeque Philosophy" (Ph.B.) degree from the Kansas City Barbeque Society. His book Mastering Barbecue has been called the "go-to" book for BBQ knowledge.
Latest posts by Mike Stines (see all)