This is turkey as it is served on Saint Martin's Day, November 11, in Nereto. Carol Field advises: "Do not use a light hand with the rosemary or garlic." I skipped the part about cutting the turkey in half and it didn't seem to make any difference. I didn't stuff the turkey with my usual cornbread-green chile mixture because I wanted it to be as traditional as possible. That said, I did add some spicy smoked paprika to add a little heat because I'm a capsaicin addict.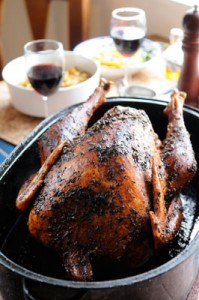 Ingredients
1

10-11 lb

turkey

cleaned

salt and pepper to taste

6

cloves garlic

roughly chopped

1/2-1/2

cup

fresh rosemary

chopped

2

bay leaves

1/4

cup

olive oil or lard

4

cloves garlic

roughly chopped

1/4

cup

fresh rosemary leaves

loosely packed

1

bay leaf

2

tsp

Pimentón de la Vera (spicy paprika)

2

cups

dry white wine
Instructions
Clean the turkey well, removing the giblets. Salt and pepper the cavity and the interior of the neck.

Chop together the first amount of garlic, rosemary, and bay leaves and place it in the cavity and interior of the neck. Skewer and truss the turkey and set in a well-oiled baking pan.

Rub the turkey with the olive oil or lard. Rub some of the second amount of garlic, rosemary, bay leaf, and paprika mixture into the skin, but let some fall to the bottom of the pan. It will make the juices delicious.

Heat the oven to 450 degrees F. Set the turkey to cook at high heat 15 to 20 minutes, turn the temperature to 350 degrees F, and continue roasting for 2 1/4 to 2 1/2 hours.

After the first half hour, pour half the white wine over the top of the turkey and baste every half hour, adding additional wine as needed. At midpoint in the cooking, remove the turkey from the oven, take out the skewers, and cut it in half.

Return the turkey to the oven skin side down, baste well with the cooking juices, pouring them into the now-available cavity as well as over the skin. Continue roasting and basting the turkey until the leg wiggles easily, 1 1/4 to 1 1/2 hours later. Let it rest 15 minutes and serve with the basting juices.
The following two tabs change content below.
Publisher | Christened the "Pope of Peppers" by The New York Times, Dave DeWitt is a food historian and one of the foremost authorities in the world on chile peppers, spices, and spicy foods.
Latest posts by Dave DeWitt (see all)