We've seen a lot of cool things at the Fiery Foods Show over the years (and some not so cool ones, like, say a certain chile pepper blog editor falling out on the show floor after the Execution Station Challenge, but I digress). This year, though, we've got a very cool treat for you: the U.S. premiere of Chiliheads during the show in the Eagle Room.
The film unfolds as a colorful cinematographic investigation; scientific, historical and sociological, recounting the story of man and pepper from their "first encounter" until now. By engaging farmers, producers, chefs, scientists, historians and even psychoanalysts, the film deconstructs the incredible history of hot peppers and our crazy relationship to them. This formidable story then brings us back to our time, where small producers discretely wage a small war, to push the limits, in an attempt to win the title of "strongest pepper in the
world."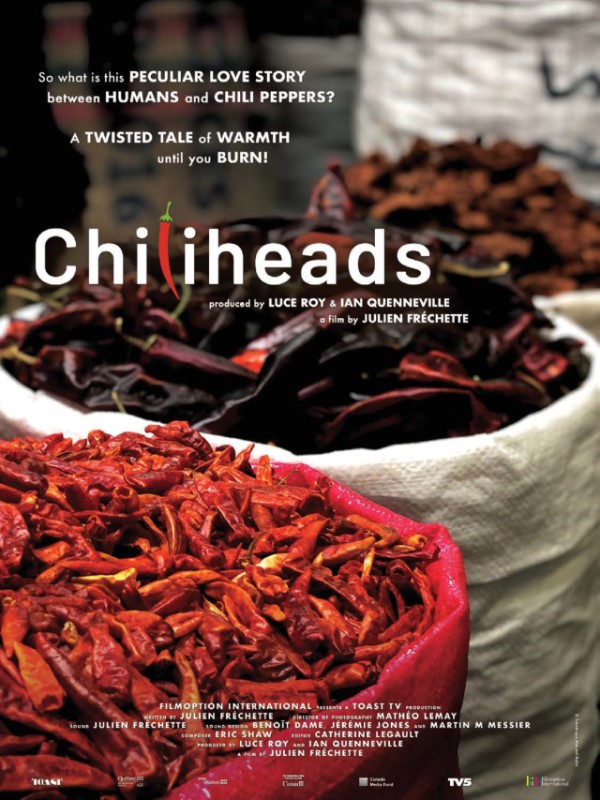 So what is this curious love story between man and this forbidden fruit? A twisted tale of love until you burn? This questioning brings us to shed a light on the craziest and most surprising side of human being and of this little fruit who tried to protect itself with a solid self-defense system in order to avoid being eaten. of the relationship: always looking for thrills, always pushing the limits a little further, a little harder, regardless of the cost.
Nominations at the 2021 Gemini Awards
BEST DOCUMENTARY PROGRAM OR SERIES: NATURE, SCIENCE AND ENVIRONMENT | Alexandre Gravel, Ian Quenneville, Luce Roy
BEST DOCUMENTARY PRODUCTION: BIOGRAPHY OR PORTRAIT, ARTS AND CULTURE, NATURE, SCIENCE AND ENVIRONMENT – PROGRAM | Julien Fréchette
BEST PHOTOGRAPHIC DIRECTION: PUBLIC AFFAIRS, DOCUMENTARY – EMISSION | Mathéo Lemay
Friday, March 4: 6pm
Saturday, March 5: 2pm and 4pm
Sunday, March 6: 1pm and 3pm
There won't be a separate admission fee but you're on your own for spicy popcorn. Knowing our exhibitors, I'd bet someone will pick up on that and have some available for sale in their booth, though. Can't wait to see you there!
The following two tabs change content below.
Managing Editor | Mark is a freelance journalist based out of Los Angeles. He's our Do-It-Yourself specialist, and happily agrees to try pretty much every twisted project we come up with.
Latest posts by Mark Masker (see all)