Contrary to popular belief—mine included and proved wrong—the seafood market at the town of La Cruz de Huanacaxtle, Nayarit does not smell "fishy." Better known as La Cruz only, this beautiful town sits in the north end of Bahía de Banderas, one of the largest bays in Mexico and one of the deepest—almost 3,000 ft—in the world. This bay lies in the Pacific coast of Mexico in the states of Jalisco and Nayarit, hosting Puerto Vallarta and it's a natural winter refuge for humpback whales.
El Mercado del Mar is located in what I would call a maritime complex composed of a marina, a yacht club and a Sunday arts, crafts and prepared food market.  El Mercado del Mar and the marina are the nucleus of the complex and they are some of the most attractive places in the area combining the ambiance of a somnolent town with the sophistication of a yacht club.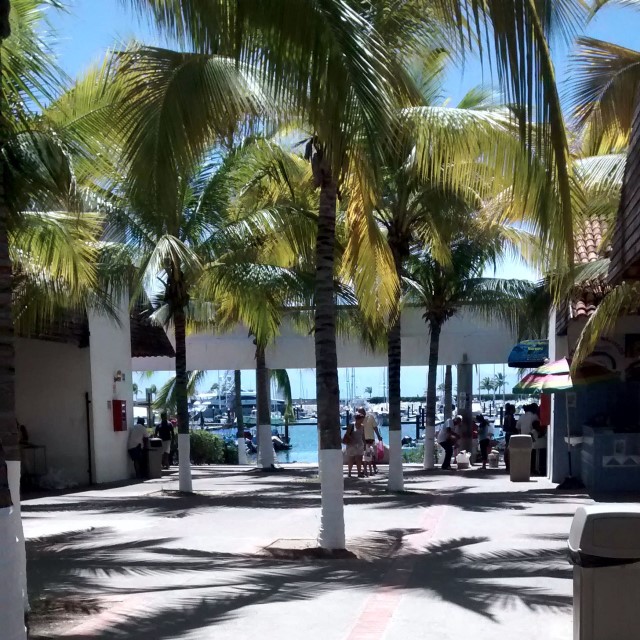 Before 2008, La Cruz de Huanacaxtle was a typical Mexican fishing village with several pretty beaches, a vibrant fishing local industry and deep waters. The Federal Government decided to develop and modernize the area to promote tourism. The strategy included building a world class marina to attract national and international affluent sailors. The marina can host up to 400 yachts from 30 to 400 ft and has a shipyard with the biggest crane in the Mexican Pacific. In an unprecedented design approach, a marina and a seafood market were "married" into the project and were built within the new development.
This gave way to a yacht club with a restaurant—open to the public—and the result was a modern, airy space that invites people to stroll around, buy fresh seafood, or have a good meal or cocktails at the yacht club restaurant. Later a commercial venue for arts and crafts, and prepared food emerged on Sundays. Around 200 vendors attract a large crowd of locals and tourists alike every Sunday between November and April. You can see boats arriving from all over the world and enjoy a fancy meal or a cocktail at the yacht club restaurant and purchase local crafts. The Sunday market also offers live music and entertainment making every visit a memorable one. All this combined with the beautiful weather made this area the perfect spot for a Sunday outing.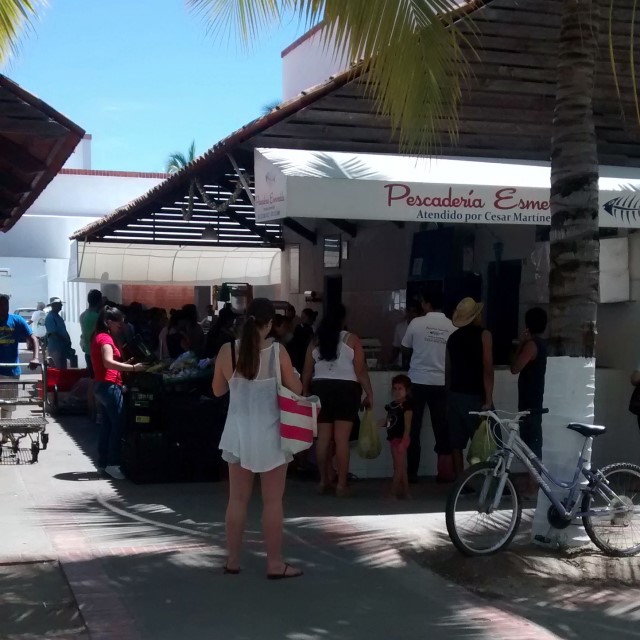 El Mercado del Mar has around 30 fixed spaces for seafood vendors—wholesale and retail—with freezer and shipping facilities to supply mainly the Guadalajara and Mexico City markets. The vendors get their product from around 100 local fishermen who deliver fresh products daily. The commercial success is evident but in my view, the magic comes from the coexistence between local fishermen and affluent sailors. Success has its secrets! A project where everybody wins!
The abundant species sold in El Mercado del Mar include tuna, red snapper, Mahi-Mahi, Pacific sierra, swordfish, marlin, crappie, shrimp, lobster, oysters, clams and various other small shellfish species. The fishmongers let you choose the fish you like from the catch of the day and work it to your instructions. You can order filets, steaks or "lonja", a fish length size cut as thick as the specimen allows it. This being my favorite cut, impresses my guests and assures there is plenty of fish for everyone summoned to the banquet.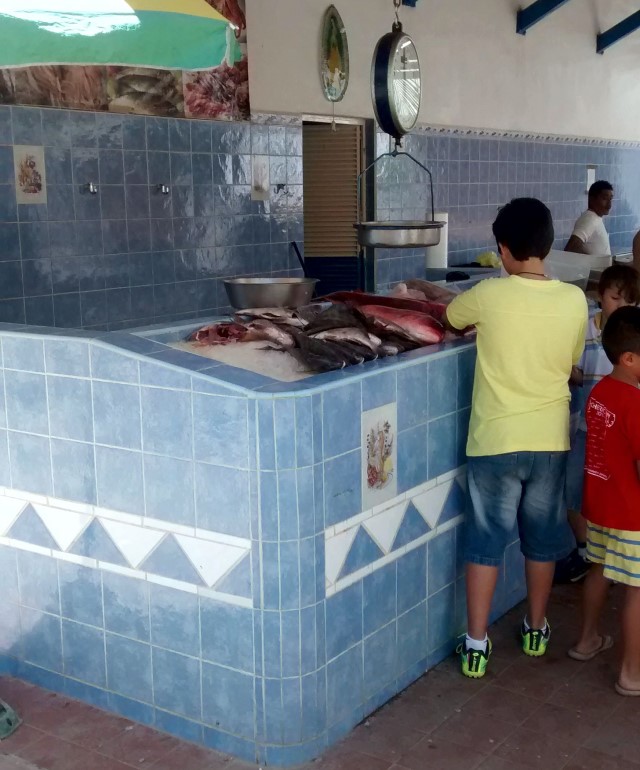 Given the setting described above, you can imagine what the local gastronomy offers. Dishes available in La Cruz and surrounding towns range from the prehispanic like Tlaxtihuilli, a shrimp soup thickened with masa de maíz and seasoned with guajillo and pasilla chiles—recipe below—, the traditional Pescado Zarandeado, Sopes de Ostión, and Chicharrón de Pescado plus the ubiquitous fish and shrimp tacos as well as fish steak or filet or prepared al gusto. And if you search enough you will find the best Tacos de Pulpo a las Brasas there are. My favorite version can be found at the beach restaurant of the Four Seasons hotel in Punta Mita not far from there.
El Mercado del Mar is enough reason to visit La Cruz but the sunday market, the marina, and a margarita cocktail at sunset in the yacht club can definitely make me go back anytime! Salud!
Recipes for El Mercado del Mar
Tlaxtihuilli (Shrimp Soup with Masa and Chiles)
A prehispanic dish from Nayarit that combines seafood, corn masa and chiles. Simple but delicious!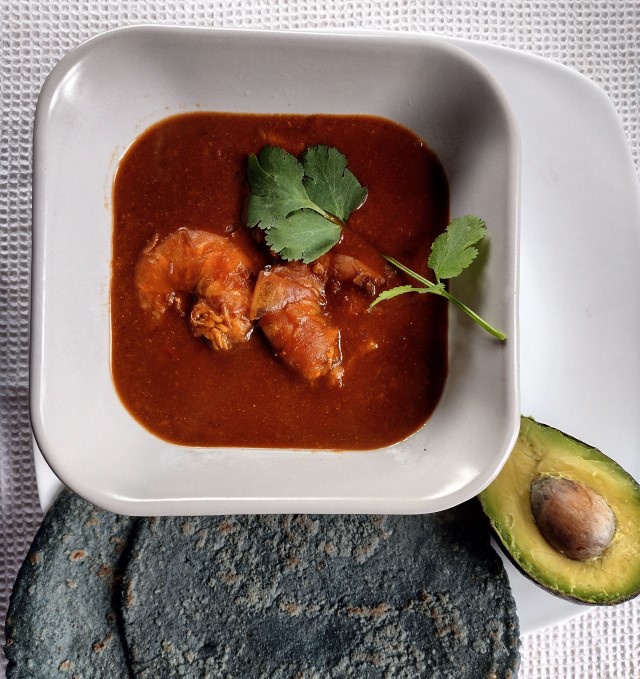 Ingredients
24 medium size fresh shrimp shelled, headless, tailless
A cup of corn dough
2 chiles guajillo rinsed, stemless and seedless
1 chile pasilla rinsed, stemless and seedless
½ onion finely chopped
2 cloves garlic
2 avocados
Orégano or cilantro for garnish
Vegetable oil
Salt to taste
Instructions
Rehydrate the chiles in abundant hot water for 20 minutes. In a blender, grind the chiles using the rehydrating water to make a thick but runny sauce. Save the remaining water.
Saute the shrimp with the onion and the garlic until they change in color in the pot where you will make the soup. Add the chile sauce to the pot and two cups of water and bring it to a boil.
With the remaining chile soaking water, dilute the masa in the blender to make a thick mix.
Add this mix little by little to the pot until the soup is thick. Simmer for 10 minutes and enjoy!
Yield: 4 portions
Heat scale: medium
Chicharrón de Pescado (Hard Crisp Battered Fried Fish)
A nutritious appetizer anytime of the day. Sprinkled with lime and salsa picante is best accompanied by a cold beer.
 Ingredients
 4 fish filets cut in strips
1 cup of all purpose flour
1 teaspoon of baking powder
2 eggs
1 16 fl oz bottle of beer or carbonated water
Frying oil
4 lemons
Your favorite salsa picante
Salt to taste
Instructions
In a bowl mix the flour, baking powder, eggs and salt. Begin to add the beer or the carbonated water to produce the batter to the thickness of your liking. Reserve.
Before battering the fish, pass it through a dish with only flour only then on through the batter.
Fry the filets until they feel hard and have acquired a dark golden color. Squeeze the lemon and sprinkle the salsa! Enjoy!
Yield: 4 portions
Heat scale: medium
Sopes de Ostión (Oyster Corn Appetizers)
These are small thick tortillas pinched around the edges forming a small wall to prevent the contents from running away. Easy to prepare and delicious to the mouth!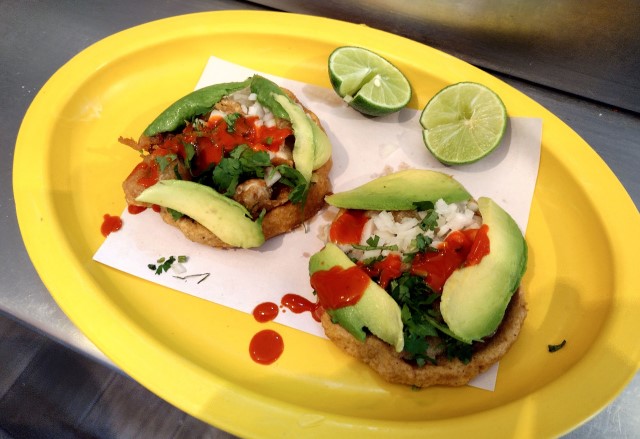 Ingredients
12 small sopes
24 medium size fresh oysters
½ onion finely chopped
1 sprig cilantro finely chopped
2 avocados diced for garnish
Your favorite salsa picante to sprinkle
Salt to taste
Cooking oil
Instructions
Using corn dough, make small (about half size of a tortilla) thick tortillas and cook them in a comal. Before they are ready, pinch them around to make a little fence. Reserve.
Right before filling the sopes, fry them lightly to a golden color.
Blanch or scald the oysters 30 to 45 seconds and place 3 oysters in every sope.
Garnish with onion, cilantro and avocado, and sprinkle with salsa. Enjoy a delicious appetizer any time of the day!
Yield: 4 portions
Heat scale: medium
The following two tabs change content below.
Latest posts by José C. Marmolejo (see all)