Because scallops cook so quickly, they're ideal for cold weather cooking. Try to get day boat or dry-packed scallops (scallops that haven't been treated with sodium tripolyphosphate (STP) which causes the scallops to absorb water, increasing the weight and the price of the scallop. "Enhanced" scallops won't sear properly due to the excess liquid.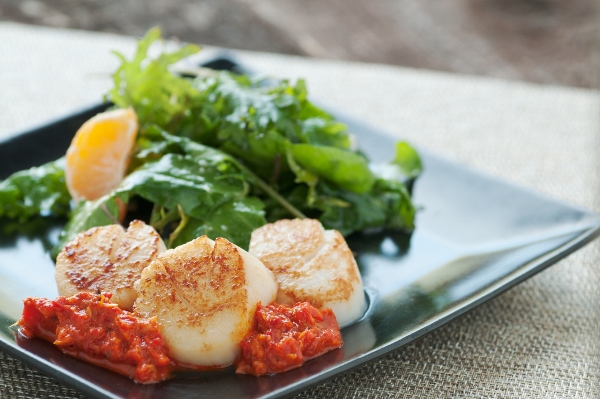 Grilled Scallops with Roasted Red Pepper Sauce Ingredients
12 large dry-packed sea scallops, about two ounces each
Extra virgin olive oil
Coarse kosher salt
Freshly ground Tellicherry black pepper
For the sauce:
1 large shallot, minced
2 springs fresh thyme
1 cup white wine (Pinot Grigio is a good choice)
1 (7-ounce) jar roasted red peppers, drained and chopped
1/4 cup chicken stock
2 teaspoons minced jalapeño
1 1/2 teaspoons lime juice
Coarse kosher salt
Freshly ground black pepper
Instructions
Remove the "catch" or side muscle from the scallops. Rinse the scallops under cold water and pat dry. Drizzle with olive oil and season with salt and pepper.
Prepare the sauce:
In a small saucepan over medium heat combine the shallot, thyme and wine. (Never use "cooking wine." Cook with a wine you would drink.) Simmer until the liquid is reduced by one-half, about 10 minutes. Strain into a blender bowl discarding the thyme and shallot.
Add the roasted red pepper, chicken stock, jalapeño and lime juice; process until smooth. Return the sauce to the stovetop and cook until reduced by one-third. Keep warm over low heat.
Prepare the grill for high-heat direct cooking. Place the scallops on the grill, close the cover and cook for two minutes. Using tongs, flip the scallops (if the scallop don't release easily from the grill close the cover and cook another 30 seconds). Cook the scallops on the second side for another two to three minutes or until the scallops are opaque.
Transfer the scallops to a warm platter. Place a dollop of sauce atop the scallops and serve over mixed field greens.
The following two tabs change content below.
Publisher | Christened the "Pope of Peppers" by The New York Times, Dave DeWitt is a food historian and one of the foremost authorities in the world on chile peppers, spices, and spicy foods.
Latest posts by Dave DeWitt (see all)