Flour tortillas make Grilled Chocolate Raspberry Quesadillas a wonderful platform for a grilled dessert in this recipe from Brad Barrett. Two tortillas form a sandwich that can be filled with sliced fruits and cheeses or in this case with a sweet ricotta cheese filling and chocolate morsels. This one hits all the sweet spots for a great grilled dessert, and it's an easy dessert that can be made several hours ahead. It's great served with a dollop of ice cream.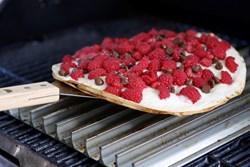 Grilled Chocolate Raspberry Quesadillas Ingredients
1 (16-ounce) container whole-milk ricotta cheese
3/4 cup confectioners' sugar, sifted
1 teaspoon vanilla extract
4 large flour tortillas
1/2 cup semisweet chocolate morsels
1/2 cup fresh raspberries
Instructions
 

Prepare a grill to cook at medium heat (400 degrees F).
Place the ricotta, confectioners' sugar, and vanilla in a food processor and process until smooth. Place a tortilla on a cutting board or rimless baking sheet. Spread a third of the filling on the tortilla. Sprinkle half of the semisweet morsels over the filling, then place another tortilla on top of the morsels. Spread a thin layer of filling on top. Cut the raspberries in half and arrange half of the raspberry halves on top of the filling. Add a few more chocolate morsels for color. Repeat with the remaining ingredients.
Use a grilling spray or wipe the raised rails with oil. Slide the quesadillas off the cutting boards or baking sheets onto the grill and close the lid. Cook for 3 to 4 minutes, then lift an edge to check the sear marks. If the sear marks are dark (almost black), give the quesadillas a quarter turn. If not, cook for 2 to 3 minutes before giving them a quarter turn. Grill until the quesadillas feel firm and the tortillas are crispy. Let the quesadillas cool for 2 minutes, then cut and serve.
The following two tabs change content below.
Managing Editor | Mark is a freelance journalist based out of Los Angeles. He's our Do-It-Yourself specialist, and happily agrees to try pretty much every twisted project we come up with.
Latest posts by Mark Masker (see all)