Connecticut barbequer and KCBS member Dave Conti likes his food spicy, on or off the grill. He shared his jambalaya recipe with Hartford's WSFT-TV and with his friends at KCBS. It's been tweaked it a bit and here are suggested other products in case you can't find the ones in the recipe in your area. If you can't get Luzianne Cajun Spice, you could mix 1 teaspoon salt, ½ teaspoon cayenne, ½ teaspoon black pepper, and 1 ½ teaspoons fresh thyme (or ½ teaspoon dried). We originally ran this recipe at our sister site, here.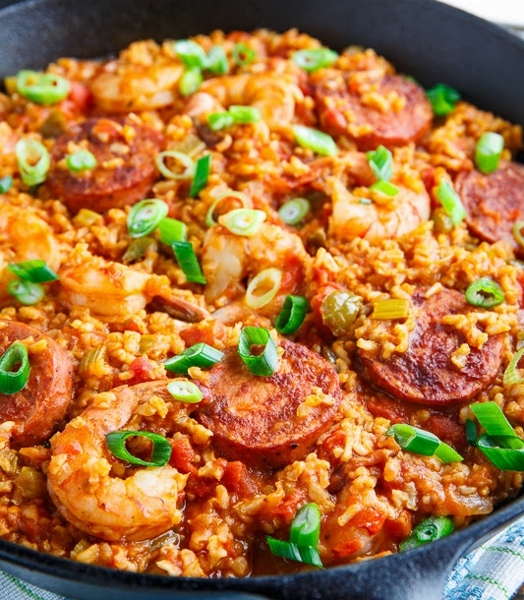 Red Planet Jumpin' Jambalaya Ingredients
1/2 cup olive oil
6 chicken thighs
1-3 tablespoons Luzianne Cajun spice, or more to taste
2 cups chopped celery
2 cups chopped onion
1 whole head of garlic, peeled and chopped
2 cups chicken or vegetable broth
1 lemon, cut in half
1 (12-ounce) bottle Saranac Pale Ale or ale of your choice
1 bag shrimp boil (optional)
2 cups chopped chorizo sausage
2 cups chopped ham
2 (28-ounce) cans whole Sclafani tomatoes, with juice
2 pounds shrimp, any size, peeled and deveined
2 (8-ounce) boxes Goya Yellow Rice, prepared according to package directions
Instructions
Heat the olive oil in a skillet over medium-high heat, add the chicken, and season with the Luzianne seasoning. Sauté the chicken until brown, 7 to 8 minutes. Set the chicken aside to cool and add the celery, onion, green pepper, and garlic to the pan. Sauté until the vegetables are tender, 6 to 8 minutes. At this point you could add more Luzianne seasoning (about 2 tablespoons), depending on your taste. Remove from the heat.
In a 2-quart saucepan, heat the broth over medium-high heat, then add the sautéed vegetable mixture, the lemon, half of the ale, and the shrimp-boil. Tear the chicken skin and meat off the chicken thighs and discard the bones. Chop the meat and skin into bite-sized pieces and add them to the pan. Add the sausage, ham, tomatoes, and the rest of the ale. Cook until the mixture is bubbling, then reduce the heat and simmer for 30 to 45 minutes. During the last 7 to 8 minutes, add the shrimp (so the shrimp don't overcook).
Add the freshly cooked rice and mix well to combine. Enjoy!
The following two tabs change content below.
Publisher | Christened the "Pope of Peppers" by The New York Times, Dave DeWitt is a food historian and one of the foremost authorities in the world on chile peppers, spices, and spicy foods.
Latest posts by Dave DeWitt (see all)