The Traeger Grills and WhistlePig Whiskey collab is about as full of fall flavor as it gets. In a good way; not the over-played pumpkin spice latte way. To give your food some really distinct and unique flavor this fall, Traeger Grills, creator and category leader of the wood pellet grill, teamed up with WhistlePig Whiskey, a leading ultra-premium and luxury American Whiskey in North America. They're launching a limited-edition line of consumables that is sure to give your food some flair. 
Launching today, Traeger unveiled the new Whiskey Barrel Pellet Blend, Whiskey Hog BBQ Sauce, and Whiskey Dust BBQ rub. The products are part of a larger collaboration with WhistlePig that kicked off in July with the launch of the SmokeStock Wood Fired Whiskey.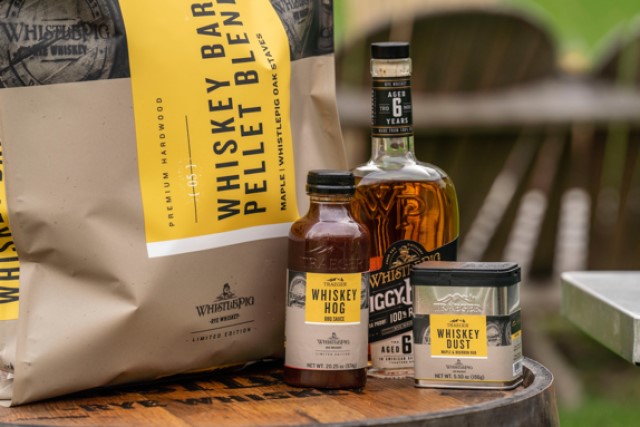 The Whiskey Barrel Pellet Blend is made from real aging WhistlePig whiskey barrels. That way, the next cook on your Traeger grill will be immersed with the bold award-winning WhistlePig whiskey flavors. The Whiskey Hog BBQ Sauce provides a smoky, unique taste for any protein that needs an extra kick of flavor. Lastly, the Whiskey Dust BBQ rub combines the flavor of bourbon with maple sugar to pay homage to WhistlePig's home in Shoreham, Vermont. All of these are the perfect complement to a signature WhistlePig cocktail made with their savory PiggyBack 100% Rye Whiskey and sweeter PiggyBack 100 Proof Bourbon. Stir or shake as you choose, but make sure you're pairing it with your favorite Traeger x WhistlePig recipe.
The Traeger/WhistlePig pellets ($24.99), BBQ sauce ($10.99) and BBQ rub ($10.99) will be available on Traeger.com and select retailers. Keep an eye on our website for reviews on some of these products in the weeks to come.
The following two tabs change content below.
Managing Editor | Mark is a freelance journalist based out of Los Angeles. He's our Do-It-Yourself specialist, and happily agrees to try pretty much every twisted project we come up with.
Latest posts by Mark Masker (see all)