Like your hot crazy ex, Gindo's Honey Habanero hot sauce blends sweet with heat. Unlike said ex, you'll feel good every time you get back together with it. There's no confusion or loss of self esteem after you've enjoyed it. A nice kick of spicy, sure, but that's what you want in a hot sauce. The burning sensation from your ex means something entirely different: STD test time.
In all seriousness, Gindo's Honey Habanero is a great sauce that blends habanero and sweet yellow bell pepper with honey, cane sugar, vinegar, and two types of sea salt. All of which totals up to a great balance of sweet, acidic, salty, and a habanero burn to finish each bite. I loves me the balance of flavors when I eat something, and this sauce definitely brings it to the table.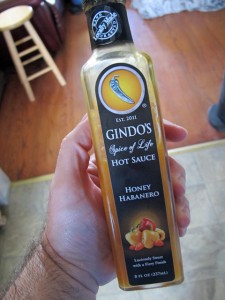 Gindo's Spice of Life recommends it for use with chicken, fish, veggies, and as an additive to condiments. They also suggest stir fry and that's what I chose to use for my test recipe. I used a pretty basic selection of ingredients because this is all about how well the sauce tastes. The next time I cook with it I'm adding it to orange chicken and I'd love to use it with some sweet and sour pork, too. The Honey Habanero is very versatile sauce; in this time of COVID quarantine, versatility is a huge plus when it comes to eating.

Heat the oils/butter for stir frying in a frying pan and the water for the ramen in a sauce pan while you dice the chicken breast.

Toss the vegetables, garlic, soy sauce, and chicken into the stir frying pan. Toss occasionally with a set of tongs. Meanwhile, boil the Maruchan ramen in the water just long enough to soften it up (about two minutes). Note: DO NOT add the sauce packet to the water.

Strain the ramen noodles. Add them to the stir fry to finish cooking. The reason I don't fully cook them in the water is because I don't want to overcook them in the stir fry.

Once the chicken is browned through and the noodles are at the desired doneness, remove the stir fry from its heat, mix in the hot sauce, and serve.
The following two tabs change content below.
Managing Editor | Mark is a freelance journalist based out of Los Angeles. He's our Do-It-Yourself specialist, and happily agrees to try pretty much every twisted project we come up with.
Latest posts by Mark Masker (see all)