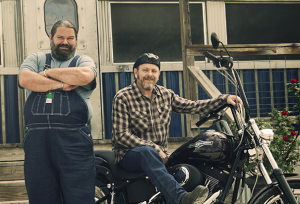 For the last million years or so, I've written for a lot of the custom motorcycle magazines so I know well how much riders love themselves some good grub after a day in the saddle. Go to Daytona Bike Week or the Sturgis Rally, and you'll find whole flocks of choppers, baggers, and other V-twin iron clustered around four things—food, beer, custom shows, and scantily clad women. There's even some actual motorcycle riding that happens in and around the events.
Now the History Channel knows this too. Paul Patranella is a four-star, classically trained French chef who loves motorcycles. Bill Allen, a renowned motorcycle mechanic, is passionate about food. These two longtime friends know that food is the ticket to the American experience and that motorcycles are a traveling foodie's best friend.
In Hairy Bikers, Paul and Bill embark on a fun-filled but informative road trip along back roads to immerse themselves in local American history and longstanding traditions. But they don't just cook and eat with the locals: They do everything it takes to put the meal on the table. This means spearing bullfrogs, trawling for shrimp, capturing gators, cleaning road kill, harvesting wheat for beer and tracking down wild boars. You can get the full story here.
But it gets better. Friday, October 21st at 10/9c the Eat More Heat crew makes its national television debut on the History Channel. They'll join Paul and Bill at the historic West Alabama Icehouse to stage an Ultra-Hot Chile Burger Challenge. James Beck of Eat More Heat had this to say about it: "I want to sincerely thank the producers of Hairy Bikers for giving us this amazing opportunity. It's hard to believe how far our little site has progressed in the last 30 months, and we will continue to make it our mission to help the fiery foods industry become more than the grocery store." If you need a reminder about when the episode airs, RSVP for the Facebook event or add it to your calendar.
The following two tabs change content below.
Managing Editor | Mark is a freelance journalist based out of Los Angeles. He's our Do-It-Yourself specialist, and happily agrees to try pretty much every twisted project we come up with.
Latest posts by Mark Masker (see all)