This may come as a surprise to some teenagers, but pumpkins are good for something other than smashing. This versatile squash comes in a wide range of shapes and sizes, from table-top decor mini-pumpkins just 3″ wide, to record-setting monsters weighing in at over 1,500 pounds! Smithsonian Magazine has a terrific online article about mega-squash here.
From flesh to seeds, pumpkins pack a wealth of nutrition, including vitamins A, C, E, iron, carotene, anti-oxidants and more. They have zero cholesterol, they're inexpensive, tasty, and they look cool. What more could you ask of a vegetable?
Chef Kristina Vanni even figured out how to fit pumpkin onto a pizza. In a fantastic deviation from pepperoni and tomato sauce, Vanni melded together the sweet nutty flavor of pumpkin with the spicy richness of Spanish chorizo in her pumpkin-chorizo pizza recipe. She is the food writer and on-camera talent for BetterRecipes.com  (part of the Meredith Corporation Food Sites). Vanni says, "You won't believe how easy it is to make your own fresh pumpkin puree and use it in delicious recipes that everyone will love. The dishes I have created here offer a new way to enjoy the entire pumpkin, all the way down to the seeds!" Here we share Vanni's tips on cooking fresh pumpkin to make your own puree, but you can also make the pizza using canned pumpkin.
You can read another great Fiery Foods & BBQ SuperSite article on pungent pizza grilling here.
How to Cook a Fresh Pumpkin
Start with small pumpkins, about 2-3 pounds.  The smaller pumpkins are not only easier to handle, they are sweeter in taste.  First, wash the pumpkins over running water and pat dry with a clean dish towel or paper towel.  Next, cut the pumpkin into large chunks and scoop out all the seeds (save them for roasting!) and stringy bits. Now you are ready!  Here are some easy options on how to cook the pumpkins chunks.  Use whatever method is best for you.
1)  Oven-Roasting:  Heat oven to 350 degrees.  Place pumpkin chunks, skin side up, in a glass baking dish.  Add 1/4 inch of water and bake, uncovered, for 45-60 minutes (depending on chunk sizes) until flesh is tender, checking occasionally to add more water, if needed.
2)  Microwave:  Place pumpkin chunks, skin side up, in a glass baking dish.  Add 1/4 inch of water and cover pan with plastic wrap or wax paper, and vent.  Microwave on HIGH for about 10 minutes (or about 5 minutes per pound) until pumpkin is tender.
3)  Steaming:  Heat water to boiling in a saucepan that fits a steamer.  Place pumpkin chunks in steamer container and place over pan.  Reduce heat to medium and simmer, covered, for about 15 minutes or until pumpkin is tender.
4)  Slow Cooker:  Place pumpkin chunks, skin side down, in slow cooker.  Cook on low for 3 to 3-1/2 hours or until pumpkin is tender.
Easy-to-Make Fresh Pumpkin Puree
For all methods after pumpkin is cooked, scoop out pulp and discard skin.  Pulp can be pureed in a blender or food processor, or stirred by hand until smooth, or you can keep it chunky, if desired.  Pulp keeps in the refrigerator for a week or it can also be frozen in airtight containers for 6 months.  A 2-3 pound pumpkin will make about 2-1/2 cups of puree.
Roasted Pumpkin Seeds
To make roasted pumpkin seeds, place seeds in a colander and rinse.  Pick out all pieces of pulp.  Place seeds on a baking sheet and pat dry.  Heat oven to 350 degrees.  Drizzle a little vegetable oil over seeds and sprinkle with some salt and toss.  Bake for 10 minutes, stir, and return to oven.  Bake another 10-15 minutes, stirring every 5 minutes until golden and crispy. (Editor's note: To turn these into a spicy snack, throw a sprinkle of cayenne powder or your favorite seasoning sprinkle over the seeds before roasting.)
Pumpkin-Chorizo Pizza
2 Tablespoons olive oil, divided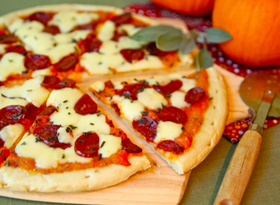 12 ounce purchased pizza crust
1/4 cup finely chopped shallots
1 clove garlic, minced
1/4 teaspoon dried red pepper flakes
1 cup fresh pumpkin puree
1/4 teaspoon smoked paprika
1/8 teaspoon salt
1 cup cubed fontina cheese
1/4 pound thinly sliced Spanish chorizo
1 Tablespoon chopped fresh sage leaves
Additional olive oil and chopped sage for garnish (optional)
Heat oven to 425 degrees.  Brush 1 tablespoon olive oil over crust; set aside.  Heat remaining tablespoon olive oil in a skillet over medium heat.  Add shallots, garlic, and pepper flakes to hot pan.  Sauté for 1 minute, stirring constantly.  Stir in pumpkin puree, smoked paprika, and salt.
Cook, stirring, until sauce is thickened and hot.  Spread sauce evenly over pizza crust; scatter with cubed fontina. Arrange sliced chorizo evenly over top and sprinkle with chopped sage.
Place pizza on a cookie sheet or directly on oven rack, if preferred.  Bake for 12 minutes or until crust is golden and cheese is melted.  If desired, drizzle a little olive oil over pizza and sprinkle with additional chopped sage.
Serves 4-6
The following two tabs change content below.
Lois Manno
Lois is the Editorial Director of the Burn! Blog and the Fiery Foods & BBQ SuperSite.
Latest posts by Lois Manno (see all)