Nachos have come a long way since their humble beginnings in Piedras Negras, Mexico, circa 1943. According to Wikipedia and MexicoLessTraveled.com, nachos were born when Victory Club maitre'd Ignacio "Nacho" Anaya had to whip up a quick snack for some guests. From there nachos spread across the border into Texas, and proceeded to conquer the entire world.
Fast forward almost 70 years to 2011 and the Ninety-Nine Restaurant in Bellerica, Massachusetts, where the nacho-making art form has been brought to a new level. As a fundraiser for Boys & Girls Clubs of America, Executive Chef George Tagarelis and his culinary teams built the world's largest nachos, as verified by the folks at Guinness World Records. Tipping the scale at 3,999 pounds, the nachos were constructed on a special horseshoe-shaped table. Watch the video for more about the record-setting nachos.
And the timing was perfect, considering that October 13-15 is when the International Nacho Festival takes place back in Piedras Negras, where it all began. Read about the festival here.
According to Dave DeWitt's book The Southwest Table, you don't have to travel to Texas to enjoy nachos, though the ones you buy outside the Southwest may bear little resemblance to the "real thing." Here's a recipe for authentic nachos:
El Paso Nachos
2 dozen corn tortillas, cut into wedges
vegetable oil for frying
3/4 cup refried beans
1/2 pound sharp cheddar cheese, grated
1/2 cup sour cream
4 or more jalapeño chiles, stems and seeds removed, sliced into thin rings
In a large skillet, fry the tortillas in 1 1/2 inches of oil, at 350 degrees F, until crispy. Remove and drain on paper towels.
Arrange the tortillas on a pan or oven-proof plate. Place a small amount of beans on each tortilla and top with the grated cheese. Heat the pan under the broiler until the cheese melts, or microwave the plate for 3 to 4 minutes.
Top with the sour cream and jalapeño slices and serve immediately.
Yield: 6-8 servings
Heat Scale: Medium
And if you still crave more nacho trivia, enjoy the Nacho Ten Commandments from Tony's Nacho Blog. Yes, that's right…this guy blogs about nachos (in a highly offensive manner, so beware). And he seems to have something against black olives.
NACHO TEN COMMANDMENTS
1.) I am Nacho your God, thou shall not take any other foods before me and you shall not make false nachos to eat (that is nachos with black olives or processed cheese)
2.) Thou shall not say the word Nacho if you are using it with a negative connotation
3.) Remember the Nacho Day, which is every Tuesday and the International Day of the Nacho and keep it holy
4.) Honor thy Mother and Father's nacho recipes
5.) Thou shall not leave a plate of nachos to go soggy or leave them under a heat lamp for too long, killing them in the window
6.) Thou shall not commit nacho adultery: if you make nachos make sure that your significant other is there to enjoy them
7.) Thou shall not steal another's nachos or be a nachosaurus
8.) Thou shall not make shit up about another nacho lover like saying they would rather eat Nacho Cheesier Doritos then real nachos
9.) Thou shall not perform any type of nacho sex with you neighbor's wife or girlfriend; it is only ok to perform acts like that if they have been broken up for at least 6 months
10.) Thou shall not covet thy neighbor's nachos, even if they are Double Meat Double Cheese Ultimate Nachos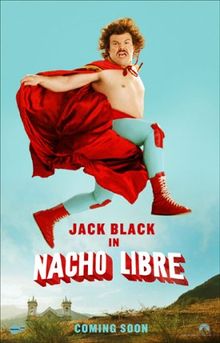 And in closing, who could forget the  illustrious 2006 comedy "Nacho Libre" starring Jack Black? Ah, nachos…you gotta love 'em, if only for the absurdity they inspire.
The following two tabs change content below.
Lois Manno
Lois is the Editorial Director of the Burn! Blog and the Fiery Foods & BBQ SuperSite.
Latest posts by Lois Manno (see all)