Anybody who has been around the fiery foods business for more than a couple of years knows about "Insane Dave" Hirschkop and his wacky straight jacket. For years, he made the rounds of shows all over the country (wearing said jacket), promoting Dave's Insanity Sauce—a sauce that topped the fiery charts when it first came out, and put Dave's company on the spicy map. Hirschkop definitely qualifies as one of the pioneers of superhot sauces.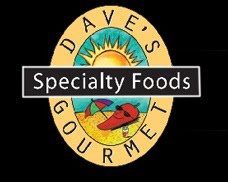 These days, Dave and his company have moved far beyond the straight jacket. Though he continues to carry an impressive line of spicy products on www.davesgourmet.com, he's expanded into gourmet pasta sauce, with flavors like Butternut Squash (winner, Best Pasta Sauce at the 2009 New York Fancy Food Show). Below is a recipe featuring this award-winning sauce, courtesy of Dave's Gourmet.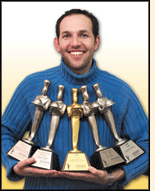 Dave's Gourmet has just launched a recipe contest, where the winner will receive up to 1 MILLION DOLLARS in royalties. Here are some details from their site: "Dave's Gourmet is 100% focused and dedicated to making exceptional innovative sauces, spices, dips, spreads, etc. We are convinced that our small, but talented staff, can't possibly outperform all the thousands of super talented home cooks, chefs, etc. out in the world. This is why we are having a contest and are trying to find fantastic food items, wherever they may be. We are so motivated to bring out more sensational sauces that we are offering potential royalties of as much as $1 million to the Brand Prize Winners." If you think you have a million-dollar recipe, the contest rules are on davesgourmet.com. The deadline is December 31, 2011.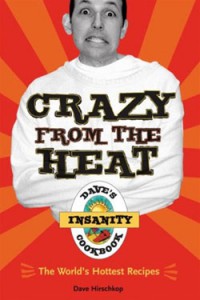 For more delicious recipes, pick up a copy of Insane Dave's Crazy From The Heat Cookbook, which features 100 hot & spicy recipes from all corners of the globe. Order it here.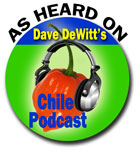 You can listen to Insane Dave talk to Dave DeWitt on Dave's Chile Podcast, where Hirschkop describes what it was like launching the first superhot sauce, and his fascination with superhot chiles.
Butternut Squash Quinoa Salad
This salad could be served warm or cold. It is like Thanksgiving in a bowl, or well at least "Fall in a bowl." It is served as a great side to almost any meal.
Servings: 6
Preparation Time: .45
1 medium yellow onion or 3 small shallots
1 tablespoon olive oil
1 cup dried quinoa
2 cups water
1 tablespoon wheat-free tamari sauce
2 cups Dave's Gourmet Butternut Squash Pasta Sauce
1 cup finely chopped fresh kale (spinach or another fresh green if kale is not available)
2-3 tablespoons balsamic vinegar
1-2 tablespoons olive oil
1 tablespoon pure maple syrup
1/2 cup dried cranberries
1/2 cup toasted walnuts
1/2 cup freshly chopped parsley
sea salt
fresh cracked pepper
Start with sautéing the onions in a little bit of olive oil in a medium pot. Then add the 1 cup of dry quinoa and toast up for a few minutes before adding the water. After 2-3 minutes add 2 cups of pure water an 1 TB of the wheat-free tamari sauce. Cook until a boil, and then turn heat to a simmer and let cook for about 15-20 minutes until there is no water left and there are air holes in the pot of cooked quinoa. Set aside and let cool down a bit.
In another pot warm up the Butternut Pasta Sauce. After a few minutes of warming the squash add the kale and let it wilt just a bit.
After a few minutes of cooking, in a large mixing bowl add the cooled quinoa mix, and the butternut squash and kale mix. Toss in the vinegar, maple syrup and toasted walnuts and cranberries. Toss a few times and add in the chopped parsley and mix thru. Make sure all parts are equally stirred and then pour into a serving bowl.
And finally, we'll leave you with a hilarious video to watch, which illustrates the consequences of sloppy eating when you're using Dave's Insanity Sauce!
The following two tabs change content below.
Lois Manno
Lois is the Editorial Director of the Burn! Blog and the Fiery Foods & BBQ SuperSite.
Latest posts by Lois Manno (see all)