Q: After reading Dave's article on the Fiery Foods SuperSite I know how to pickle chiles but I've heard you can "pickle" other fruits with alcohol. Do you have a favorite recipe? —Gordon
A: Hi Gordon! Thanks for the inquiry. One of my favorite recipes is for "Bloody Mary Tomatoes." These cherry tomatoes, marinated in a Bloody Mary mix, make a great appetizer for an adult party. After marinating the tomatoes, the vodka mix can be used to create your signature Bloody Mary cocktail. To spice up these tomatoes, use a peppered vodka like Absolut Peppar, or use the recipe for chiltepín vodka below to make your own unique spiced vodka.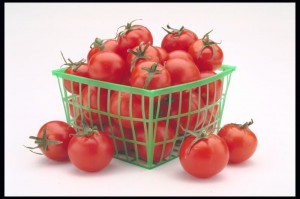 Bloody Mary Tomatoes
1 pint good-quality vodka
12 ounces Cherry tomatoes
2 tablespoons freshly grated horseradish
2 tablespoons fresh lemon juice
2 tablespoons Worcestershire sauce
2 tablespoons hot sauce (I use Frank's)
1 teaspoon granulated sugar
1 teaspoon celery salt
1 teaspoon freshly ground black pepper
In a small mixing bowl combine the horseradish, lemon juice, Worcestershire, hot sauce, sugar, celery salt and pepper. Whisk to combine.
Rinse and stem the tomatoes. Using a paring knife, cut an "X" into the bottom of each tomato. Place the tomatoes in a quart-size Mason jar. Add the spice mix and fill the jar with vodka.
Cover the container and refrigerate for at least three days or up to one week. Shake the container occasionally to distribute the mixture.
To serve: mix together two teaspoons celery salt, 1/2 teaspoon ground cayenne chile powder and 1/4 cup coarse kosher salt. Roll the marinated and drained tomatoes in the mixture and serve with cocktail spears.
Reserve the vodka mixture for future use in a Bloody Mary.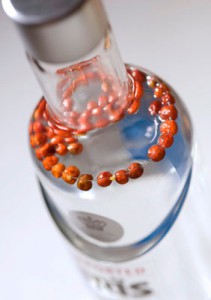 Chiltepín Pepper Vodka
The Russians are the true inventors of pepper vodka and they flavor their vodka most commonly with cayenne. Any type of small fresh or dried chile pepper that will fit in the bottle will work. Be sure to taste it often (yes, we know this is a real hardship) and remove the chiles when it reaches the desired heat—the longer the chiles are left in, the hotter the vodka will get!
Serving Suggestions: Serve over ice or in tomato juice for an "instant" Bloody Mary. Note: This recipe requires advance preparation.
4 to 6 dried chiltepín or piquín chiles, left whole
1 liter vodka
Place the chiles in the vodka and let them steep for a week or more. Periodically taste the vodka and remove the chiles when it is hot enough.
Heat Scale: 4
ASK CHEF MIKE YOUR OWN QUESTION ABOUT GRILLING, CHILES, GADGETS, OR OTHER FOOD AND COOKING TOPICS. SEND HIM A MESSAGE HERE.

Mike Stines is a professional chef and the Grilling and Gadgets Editor for the Burn! Blog. Mike holds a "Doctorate of Barbeque Philosophy" (Ph.B) degree from the Kansas City Barbeque society. His book—Mastering Barbecue (Ten Speed Press, 2005)—has been called the "go-to" book for BBQ knowledge.
The following two tabs change content below.
Grilling & BBQ Editor | Mike holds a "Doctorate of Barbeque Philosophy" (Ph.B.) degree from the Kansas City Barbeque Society. His book Mastering Barbecue has been called the "go-to" book for BBQ knowledge.
Latest posts by Mike Stines (see all)