If you're a fan of retro American culture, you probably know about Ripley's Believe It Or Not, which was launched way back in 1920 by a guy who traveled all over the world looking for the strangest oddities in the world. Too bad Ripley never met James "Wreck" of Eat More Heat.com. I guarantee Ripley would have loved promoting James as The Man With The Asbestos Mouth.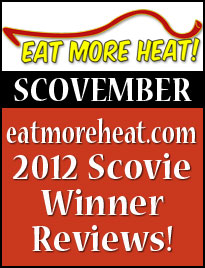 James, you see, has made a name for himself in the already odd world of chileheads by competing in spicy eating contests, snacking on fresh super hot chiles, and generally thumbing his nose at levels of capsaicin that would leave most of us convulsing on the floor. A bit on the frat-boy side of fiery foods? Definitely. But James has been around the country in his Spicy RV, interviewing hot food makers, eating the hottest stuff he can find, appearing on Hairy Bikers, and generally building his chops as an aficianado.
All during the month of November, James and his team of hothead reviewers will be tasting and evaluating the current crop of Scovie Award winners. These are not paid reviews, and he doesn't pull any punches when he tastes the products. James has eaten so much hot stuff that his estimation of what's "hot enough" should probably be taken with a grain of salt. And his
methodology is nowhere near as exacting or objective as the actual Scovie judging process. (For one thing, he knows what product brand he's sampling, whereas the during the Scovie judging, all product identities are hidden.) But if you're interested in knowing what a hard-core chilehead thinks of the Scovie winners, you can watch his Eat More Heat Live Tuesday night weekly video broadcasts at 9pm EST.
For more information about the Scovie Awards, and to see a list of all the 2012 winners, visit the official site at www.scovieawards.com.
The following two tabs change content below.
Managing Editor | Mark is a freelance journalist based out of Los Angeles. He's our Do-It-Yourself specialist, and happily agrees to try pretty much every twisted project we come up with.
Latest posts by Mark Masker (see all)